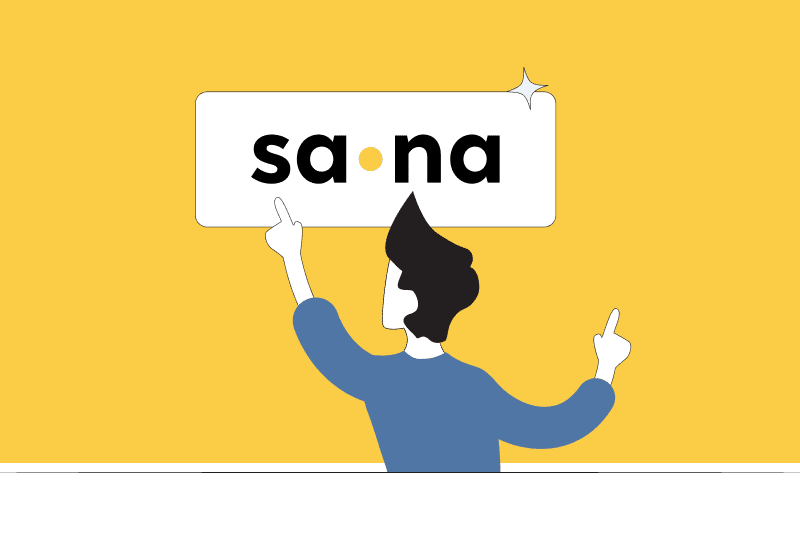 Choosing a modern insurance company over a well-known, legacy insurance carrier can feel challenging. Even if the legacy companies cost more, you might be tempted to go with them because they're household names your employees are already familiar and comfortable with.
But there are many compelling reasons to take the leap with Sana Benefits. We offer technology-driven health insurance plans to small and medium-sized businesses at lower prices than the legacy carriers — without sacrificing quality.
If you're considering Sana Benefits right now, we wanted to explain why countless small businesses have chosen us for dependable health benefits for their employees. Here are ten facts and figures about Sana that show we're the real deal.
Sana Benefits is legit because…
1. We are backed by a trusted insurer with a top rating.
We are backed by Benchmark Insurance Company, which has been assigned a Financial Strength Rating of A (Excellent) by AM Best.
2. We are funded by the most innovative venture capital firms.
We just raised $60 million in a Series B funding round co-led by Trust Ventures and Gigafund – bringing our total raised to $107 million since 2017.
3. Our customer satisfaction rating is 95%.
Health insurance is complicated, so we ensure our customers can get their questions answered quickly by a real person. Our Member Advocate team can be reached via phone, email, or chat; their average response time is less than two minutes.
4. 9 out of 10 businesses renew with us for another year.
When surveyed, 78% of plan administrators said Sana was better than their previous health insurance company – mainly consisting of the legacy carriers like Blue Cross, United, Aetna, etc.
5. We never charge out-of-network fees.
Sana's health plans are all-access, which means that we consider all providers in-network and process claims submitted by any provider. Your employees will love not having to switch doctors when you enroll with Sana.
We use the HealthSmart network, which includes over 1.2 million locations in the U.S. But if your doctor isn't already in the Sana HealthSmart network, we will reach out to them and add them for you. 90% of providers accept our invitation, and we ensure you get the care you need from the providers you choose.
6. We pay providers quickly and fairly.
The reason so many providers accept our invitation to join the Sana network is because we offer them fair reimbursements, fast — within four days on average. We use the fair-value reimbursement model to determine payment amounts, which means you pay a reasonable price for care. Our provider satisfaction score is 97%.
7. You don't need to be an HR expert to use our admin dashboard.
Our intuitive dashboard makes it simple for plan administrators to add/terminate employees, approve new enrollees, see claims spending, reconcile invoices, and run reports — all in just a few clicks. We know that many small businesses have lean or nonexistent HR teams, so we built our product to make health benefits management as streamlined as possible.
8. Unlike legacy carriers, we were custom-built for small and medium-sized businesses.
We designed our business model specifically to fill the gap we saw in the healthcare industry: businesses with 5 to 500 employees. Small and medium businesses are not well served by the big-name carriers who hold the lion's share of the market. They often charge small businesses much more than they would charge a large company for an identical health insurance plan simply because small employers lack the buying power of large firms.
9. We can save you up to 20% compared to legacy carriers.
We use a handful of cost-cutting measures to ensure real savings for your business without ever asking you to compromise quality. For instance, we offer level-funded plans that provide immediate cost savings with no risk of paying more than budgeted. We also partner with Smith Rx, a transparent pharmacy benefits manager that passes through all rebates and discounts, thus lowering drug prices. And the fair-value reimbursement model mentioned above means we work with providers to determine a fair cost for care.
10. Our plans cover everything legacy insurers cover — and we give members free access to virtual care and in-person providers that can take their healthcare to the next level.
We believe in a holistic approach to health. We want to help members prevent health problems and manage conditions — not just treat symptoms.
That's why we offer no-cost virtual appointments for primary care, pediatric care, maternity care, health coaching, mental health services, physical therapy, and more. We also partner with providers to offer our members $0: lab work, fitness classes, medical imaging, second opinions, medical equipment, surgeries, and complex condition management.