Resources
/
Small but mighty: How to thrive as an HR department of 1
Small but mighty: How to thrive as an HR department of 1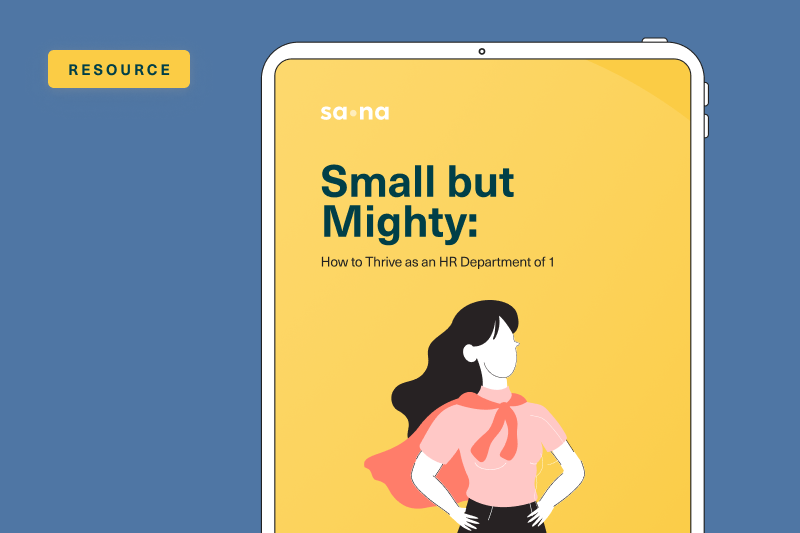 Introduction
Human resources (HR) is the department in charge of all things employee-related. The HR department:
Manages the entire lifecycle of employees, from first engagement to separation
Pays employees and administers benefits
Ensures the workplace is safe and compliant with all tax and labor laws
Fosters a positive workplace culture that attracts and retains talented employees
You're right if you think that sounds like a lot of work. HR is as complex as it is critical — after all, a company's most valuable asset is its employees.
That's why larger businesses must hire several HR professionals, including payroll managers, talent acquisition specialists, and benefits administrators to handle specific parts of the workload. According to a Bloomberg study, the ideal HR-to-employee ratio is 1.4 full-time HR staff per 100 employees.1
Other organizations choose to outsource some or all HR functions.
But at many smaller companies, one person handles all things HR. This might be a sole HR generalist or a startup founder performing HR tasks on top of their other duties.
Either way — if you run an HR department on your own, this guide is for you. We've pulled together tips, resources, and insights to help you thrive as an HR department of one.
Did you know?
45% of small business owners spend one day or more each week on HR tasks.2
Payroll and benefits

In our 2022 SMB Employer Benefits Survey, we asked solo HR practitioners at small and midsize businesses what their biggest priorities are for HR this year.
The top response: payroll and benefits.
Payroll
For HR professionals, payroll creates a recurring deadline that can never be missed. Employees must be paid promptly and accurately every single time.
Did you know?
49% of workers will begin a new job search after two paycheck errors.3
Because there is no room for error in payroll, it's no wonder it tops solo HR teams' list of priorities.
Payroll software
While HR leaders have many software options for payroll, QuickBooks and ADP were the most popular among our survey respondents.
10.1% of respondents say that the HR software that has helped them most in their role is QuickBooks, which is user- and budget-friendly but tends to be more limited in its features and integrations.
9.4% say that the most helpful HR software is ADP, which is pricier but more flexible, making it ideal for rapidly scaling startups that need to adjust payroll plans quickly.
Tip:
When paying employees, you must understand and adhere to relevant regulations. Learn more about the state and federal laws governing the payment of wages and hours worked in this toolkit.
Running payroll internally can be incredibly time-consuming. You have to wear many hats as an HR team of one, so it may be worth considering outsourcing payroll so you can spend your time on more strategic, big-picture HR initiatives.
70% of small businesses say payroll taxes are burdensome, and calculating them can take several hours each week.4
45% of small businesses outsource payroll to a vendor, which saves time and helps ensure payroll compliance.5
Benefits
Employee benefits — all of the non-wage compensation provided to employees in addition to their salaries — are powerful tools businesses use to attract, retain, and engage employees. It's usually up to HR to spearhead all projects related to benefits.
An excellent benefits package can help a small business contend with a large company for talent. For many, health benefits are even more important than salary. 88% of job seekers give "some" or "heavy" consideration to a lower-paying job with better health, dental, and vision benefits over a high-paying job with worse benefits.6
Did you know?
If your business has 50+ full-time equivalent employees, you are legally required by the Affordable Care Act to provide health insurance to employees. It is not legally required if you have 1 to 49 employees, though strongly suggested.
Employees have long expected medical coverage from their employer. But the global pandemic raised employees' expectations by sparking a heightened awareness of work-life balance and overall well-being. According to McKinsey, it is increasingly important to offer "a variety of voluntary benefits to bolster talent acquisition and retention efforts."7
The top three benefits employees want in addition to health insurance are:8
A flexible schedule
Employer retirement contributions
Mental health coverage
Building a benefits package
As a solo HR practitioner, you are responsible for building a multifaceted benefits package that will make employees feel holistically supported. You are also responsible for communicating benefits to employees and encouraging them to use them.
Did you know?
95% of HR professionals at small and midsize businesses say they can impact employees' utilization of benefits. HR leaders have the power to create workforces that are collectively more proactive about their health and wellbeing — which saves the company money by reducing absenteeism and expensive health claims over time.
Learn the ins and outs of offering employee health and wellness benefits in this free ebook: The Small Business Guide to Offering Employee Benefits.
Recruiting and onboarding

Recruiting is the process of identifying and hiring employees. It involves:
Creating job descriptions and listings
Screening candidates
Setting up interviews
Selecting the best candidates
Extending job offers
Onboarding is the process of integrating new hires into the organization. It involves:
Sharing company goals and values
Explaining company policies and procedures
Introducing new hires to colleagues
Discussing job responsibilities and expectations
Beginning job training
When new hires have a positive recruiting and onboarding experience, they are more likely to stick around: 69% of employees are more likely to stay with a company for three years if they experienced great onboarding.9
Early interactions with a company reveal a lot about its culture. A fair and respectful recruiting process and an onboarding process that follows the 5 C's — compliance, clarification, culture, connections, and check back — have the power to make a new employee feel motivated and aligned with the company right from the start.
Top 5 onboarding best practices
It can be challenging to orchestrate all of these critical steps as an HR team of one, but here are five practices that apply whether your new hire is in-person or remote:
Start communicating with new employees before their start date, and get critical paperwork — like contracts and payroll forms — out of the way early on.
Pair new employees with a peer mentor who can answer their questions and show them the ropes.
Schedule regular manager check-ins — for instance, on days 1, 7, 14, 30, 60, and 90 — during which new employees can set and discuss a development plan.
Remember that onboarding is a months-long process — gradually ease new hires into meaningful work rather than overwhelming them during week one.
Ask recently onboarded employees for feedback on the process.
Training and development

According to our 2022 SMB Employer Benefits Survey, training and development is the third highest priority for HR teams of one — and 14% say it is their biggest challenge.
Training and development both refer to educational opportunities within a company designed to enhance the knowledge and job performance of an individual or a group, but there is a difference between them:
Training is short-term and tactical — it helps employees learn particular skills or acquire specific knowledge they need to do their jobs well.

Examples: technical training, hard skills training, product or service training, compliance training

Development is continuous and strategic — it is geared toward employees' career growth in the long term.

Examples: leadership development, soft skills development, team development
Both are essential. Employees who feel good at their job and are empowered to work toward the job they want in the future are more motivated, which improves employee engagement and retention. Plus, a well-trained workforce is more efficient, adaptable, and growth-oriented — which helps the organization thrive.
Did you know?
Hiring a new employee costs around 4x more than training a current one.10 This shows that, while costly, training and development initiatives save companies money by reducing attrition and enabling internal hiring for open roles.
Like so many tasks, training and development fall to the solo HR practitioner to coordinate.
Creating a training plan
According to Kenjo, these are the six steps to create an effective training plan:11
Identify company needs — performance reviews and employee surveys are great ways to assess what employees need and want to work on.
Set program goals — they should be specific, measurable, aligned with management's goals, and reflect the needs identified in Step 1.
Involve employees — gauge employee interest and involve them in the planning process.
Create useful, personalized, and appealing experiences — take different learning styles into account, and try to make training fun rather than tedious.
Plan the logistics — details, details.
Monitor the results — follow up with employees, measure the effectiveness of the effort, and figure out how to improve the training in the future.
Engagement and retention

According to our survey, the second biggest priority for HR teams of one in 2022 is employee engagement and retention.
Employee engagement is the degree to which workers are invested in their work and the work their organization does. Employee retention refers to an organization's ability to prevent undesirable employee turnover by incentivizing existing workers not to leave their jobs. The two are connected because disengaged employees are more likely to seek greener pastures.
Why are engagement and retention so important?
66% of workers will leave a job if they feel unappreciated.12
Replacing an employee in a technical role costs 100% to 150% of their salary.13
Disengaged employees cost the global economy $7.8 trillion annually.14
In the "Top 5 Priorities for an HR Department of One" session at last year's SHRM Annual Conference & Expo, CEO of WithIN Leadership Jennifer Currence placed employee engagement and retention at #1 on the list.15 According to Currence, the primary reasons employees become disengaged and ultimately leave jobs include a lack of (a) autonomy, (b) recognition, and (c) coaching at work.
Her proposed solution? "Create a work environment where employees have fun."
Practical tips
Here are some practical ways HR teams of one can improve employee engagement and retention:
Compensate employees at current market rates, and offer a robust benefits package.
Always ensure employees have the necessary resources to perform their duties — from hardware and software, to training, to support from colleagues.
Provide an outlet for anonymous feedback about management, and eliminate toxic managers immediately.
Provide employees with opportunities for career development, such as skill-based training and continuing education.
Use employee surveys or one-on-one meetings to ask what is working well and what needs improvement — and act on your findings.
Maximize employees' ability to work flexibly.
Regularly communicate the organization's purpose so that employees can reflect on the bigger picture of their day-to-day work.
Did you know?
57% of employees have left a job because of their manager.16
Compliance

Compliance ensures that all workplace policies align with the relevant city, state, and federal laws. A business can face fines, lawsuits, and even shutdown if it is not compliant.
Compliance is a daunting task for any one-person HR department because laws are constantly changing:
64% of HR managers at small businesses don't think they have adequate time and resources to keep up with compliance challenges.
52% of mid-sized businesses report at least one HR-related complaint, lawsuit, or charge.17
An annual compliance audit is a great way to ensure your company is adhering to all regulatory requirements. An internal audit conducted by an employee (probably you!) is less formal, while an external audit conducted by a third party is a more official way to assess compliance.
Federal compliance
Here is a list of federal laws that HR leaders need to ensure compliance with:
Fair Labor Standards Act: establishes minimum wage, overtime pay, recordkeeping, and youth employment standards
Title VII of the Civil Rights Act: makes it unlawful to discriminate against someone on the basis of race, color, national origin, sex, or religion
Age Discrimination in Employment Act: protects certain applicants and employees 40 years of age and older from discrimination on the basis of age
Americans with Disabilities Act: prohibits discrimination based on disability
Affordable Care Act: increases health insurance coverage for the uninsured and implements reforms to the health insurance market
Health Insurance Portability and Accountability Act: protects sensitive patient health information from being disclosed without the patient's consent or knowledge
Employee Retirement Income Security Act: sets minimum standards for most voluntarily established retirement and health plans in private industry to protect individuals in these plans
Occupational Safety and Health Act: establishes workplace standards to ensure that employees are protected from hazards that compromise their safety and health
Family and Medical Leave Act: entitles eligible employees of covered employers to take unpaid, job-protected leave for specified family and medical reasons with continuation of group health insurance coverage
Did you know?
On average, the costs associated with non-compliance are almost 3x higher than the cost of maintaining compliance.18
Company culture and policy

Company culture
Company culture refers to the way people conduct themselves — and the way things get done — in the workplace. It encompasses the formal policies and values of the organization, as well as the unwritten standards that inform employee behavior.
It is unrealistic to expect the solo HR practitioner to have complete control over company culture, as it is the sum of all employees' attitudes, practices, and interactions.
But as an HR team of one, you have the power to set the tone for a positive company culture. HR leaders are often described as stewards or caretakers of workplace culture because they have the ear of all company leaders and employees.
4 ways to foster strong company culture as an HR team of 1:
Clearly communicate company values, goals, and policies during onboarding. This helps new hires understand and integrate into the company culture quickly.
Always look for opportunities to incorporate company values into day-to-day operations. Since values are the foundation of culture, communicating them (while important) is not enough. Employees must experience them.
Remind managers of the impact their behavior has on the culture. They continue the cultural education you start in onboarding, and they must lead by example.
The best cultures are adaptable — continually poll or interview employees about the culture, asking for their suggestions and feedback. This helps you create a culture that works for everyone.
Did you know?
88% of job seekers say that a distinct workplace culture is vital for success19 — and 69% of job seekers would reject a job offer from a company with a bad reputation.20
Company policy
One major determinant of workplace culture is company policy, or HR policy — the written framework of an organization that dictates how a wide range of issues should be handled.
HR policy generally includes rules and procedures governing seven major categories:
Recruitment, selection, and termination
Leave and time off
Health, safety, and security
Employee conduct
Performance management
Use of technology
Work travel
HR policy should be clearly outlined in the employee handbook and distributed to new hires during onboarding. This is a great way to communicate employee rights, responsibilities, and expectations from the get-go. It also lets employees know they are entering a culture where issues are handled consistently, and employees are treated equally.
How Sana helps small businesses

Sana is a modern health insurance company built to make benefits management intuitive and pain-free for small businesses.
Did you know?
Most of Sana's customers have HR teams of one.
We make life easier for HR teams of one:
Our intuitive employer dashboard is "so easy to use" and "extremely focused on the things that an HR manager needs to see," according to Sana plan administrators.
Our plans include $0 healthcare and wellness options (including mental healthcare), which takes the guesswork out of building a robust health benefits package.
We can save you up to 20% on employee health insurance compared to big-name insurance carriers, freeing up your budget.
What solo HR leaders love about Sana
Leigh Adams — HR team of one at Michaels Wilder, a digital marketing agency — said that with the savings from switching to Sana, her company can cover 100% of plan premiums.
Pearl Garcia — solo HR practitioner at Fergmar Enterprises, a real estate firm — said that she has seen a positive change in employees who have used Sana's $0 healthcare offerings, such as virtual mental healthcare through Ginger and virtual health coaching through Vida.
Paige Shuman — solo HR leader at Synectics International, a computer consulting company — loves that when you contact Sana's customer service team, you can get your questions answered by a real person right away.
Jenny Smith — HR team of one at Two Roads Wellness Clinic, a health and wellness provider — appreciates that Sana proactively gives her resources to assist with benefits management, making onboarding and enrollment fast and easy.
Get a quote for your business.
1 Bloomberg BNA's HR Department Benchmarks and Analysis Report
2 Small business owners spend at least one day a week managing people paperwork, study finds
3 Payroll problems may undermine employee experience, says survey
4 NFIB 2021 Tax Survey
5 13 payroll statistics you need to know in 2022
6 What employees want
7 Employers look to expand health benefits while managing medical costs
8 Employers are upping pay and benefits to keep workers from resigning. Here are the perks workers want most
9 Don't underestimate the importance of good onboarding
10 What is the real cost of training employees?
11 How to develop a training plan for employees
12 66% of employees would quit if they feel unappreciated
13 Employee retention: The real cost of losing an employee
14 State of the Global Workplace: 2022 Report
15 Retention tops this year's priorities for HR departments of one
16 New DDI research: 57 percent of employees quit because of their boss
17 HR compliance: Everything you need to know
18 The true cost of compliance with data protection regulations
19 Core beliefs and culture
20 69 percent of job seekers would reject a job offer from a company with a bad employer reputation. Here's how to improve yours