Sana Blog
/
Top 16 things to consider when offering small business health insurance
Top 16 things to consider when offering small business health insurance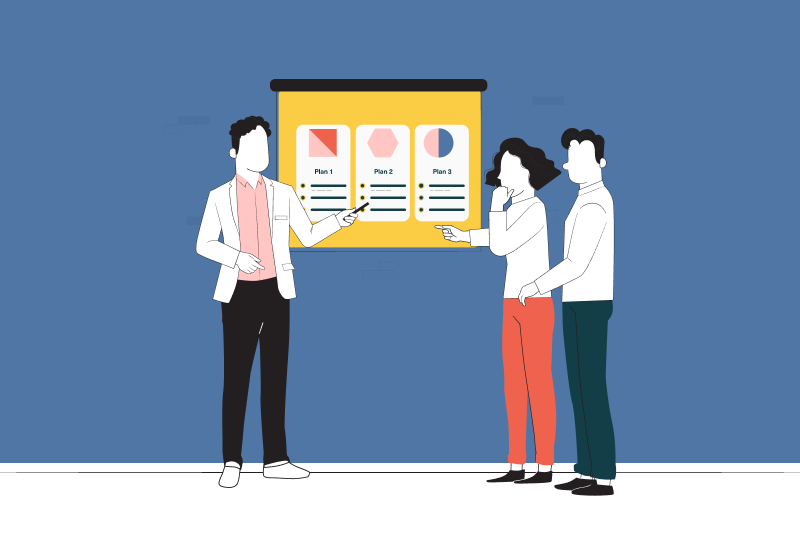 Offering small business health insurance is one of the best decisions employers can make to ensure both the health of their employees and the longevity of their business: Group health insurance for small business allows employees and their dependents to more affordably access medical coverage than they would be able to as individuals, which is key to their well-being. And employer-provided health coverage is essential for recruiting and retaining top talent, as well as improving employee engagement — which are crucial to the business' well-being.
That's why we've put together this list for employers, meant to serve as a quick guide to small business health insurance. (For a more in-depth guide, download this free ebook.)
Below, you'll find facts, figures, and guidance on the following:
When you should begin offering

small business group health insurance

How to budget for

small business health insurance costs

How to get health insurance for small business

What to look for in

small business health insurance plans

How to offer health benefits employees actually care about
16 things to consider when offering small business health insurance
Business considerations
1. If your business has 50+ full-time equivalent employees, you are legally required by the Affordable Care Act to provide health insurance to employees. If you have 1 to 49 employees, it is not legally required — though it is strongly suggested — to offer group health insurance.
2. Most businesses in the U.S. are small. Yet the smallest businesses are the least likely to provide employee health insurance, with its rising cost being the greatest deterrent for small business owners. In 2021, only 49% of businesses with 3 to 9 employees offered health coverage, compared to 65% of those with 10 to 24 employees, and 74% of those with 25 to 49 employees.
3. The best time to start offering small business employee health insurance? ASAP. It's critical if small businesses want to compete with larger ones for top talent. Some studies show that health benefits are even more important to workers than salary — 88% of job seekers give "some" or "heavy" consideration to better health, dental, and vision coverage when choosing between a high-paying job and a lower-paying job with better benefits.
4. While it is costly to offer small business health insurance, it is also costly to lose employees to jobs with better benefits. Replacing an employee in a technical role costs 100% to 150% of their salary — not to mention the negative effects losing a coworker can have on workplace morale and productivity.
5. Understanding the average cost of health insurance for small business will help you determine whether your budget is ready to accommodate the investment. On average, small businesses pay $6,485 for each covered individual and $13,737 for each covered family annually. Learn more about small business insurance costs. 
6. Before shopping for health insurance plans for small business, it's wise to learn the differences between the most common plan types. That way, when you encounter the acronyms HMO, PPO, and EPO, you'll already be familiar with their basic parameters. 
7. There are lots of places you can go to shop for health insurance for a small business — legacy carriers like Blue Cross Blue Shield, modern insurance companies like Sana, professional employer organizations (PEOs), and the online health insurance marketplace. Read more about where to shop for plans. 
8. A small business health insurance broker can help you find, quote, and secure employee
 benefits if you'd like professional guidance during your search — but keep in mind that using a broker is not required. You can go directly to the websites of most insurance companies to request a quote for your small business.
9. The plan you should choose is the one your employees will actually use. After all, the reason you're investing in health insurance in the first place is to make your employees feel valued. Ask your employees about their preferences when weighing your small business health insurance options — for instance, do they value flexibility or affordability more highly when it comes to their healthcare?
10. Health insurance for small businesses should not be treated the same as health insurance for large corporations. Traditional health plans offered by legacy carriers tend to be more favorable for larger companies, while modern insurtech companies are leading the way in health plans built specifically with small businesses in mind.
11. One of the reasons health plans from legacy carriers tend to be more expensive is because their pricing model involves negotiating "discounted rates" with providers and hospitals. But there is nothing stopping providers and hospitals from ignoring the actual cost of treatment when calculating rates — for instance, about 1 in 5 hospitals marks up drug prices at least 700%. That's why it's best to choose insurance companies with non-arbitrary, value-based pricing models.
12. A great way to offer affordable employee health coverage is to self-fund your employees' healthcare — as opposed to paying a high monthly premium to an insurance carrier to fund it for you. Self-funding means you only owe money when your employees seek care. Learn more about self-funding and how to manage it.
13. Self-funded health plans are cost-effective and risk-free for small businesses when they are level-funded. Level-funding places an upper limit on healthcare costs so that unexpectedly high claims costs cannot wipe out your monthly budget — which is why level-funded self-insurance tends to be the best health insurance for small business.
14. Giving employees access to wellness resources is an effective way for self-funded employers to keep small business health insurance costs low. The more opportunities employees have to take care of their own health, the lower their healthcare claims costs will be over time. Some health plans have built-in wellness resources, such as virtual health coaching and chronic condition management.
15. Mental health coverage is non-negotiable in 2022. According to a survey conducted for Fortune, the top three benefits employees want most in addition to medical coverage are: a flexible schedule, employer retirement contributions, and mental health coverage. Choose a health plan with low out-of-pocket costs for mental health services and common mental health medications.
16. 45% of small business owners spend one day or more each week on administrative human resources (HR) tasks. If your business has a lean or nonexistent HR department, be sure to choose a health insurance company that will help alleviate your HR burden. Modern insurance companies are more likely than legacy carriers to design health insurance for small business owners, offering intuitive technology that simplifies onboarding and benefits management.