Sana Blog
/
Health insurance 101: Exclusive provider organization (EPO) plans
Health insurance 101: Exclusive provider organization (EPO) plans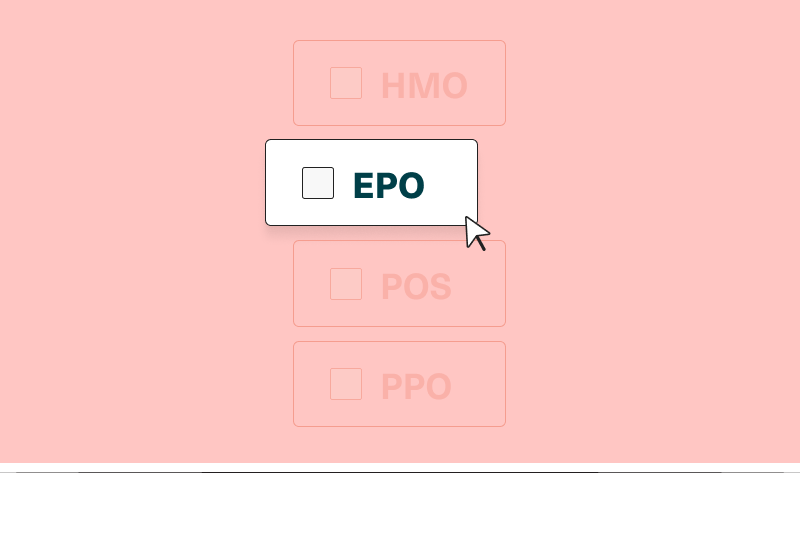 Providing employees with quality health insurance is one of the best ways for businesses to attract and retain top talent. If you are an HR professional or small business owner looking into getting health insurance for your employees, you'll be faced with many different plan options, each with its own benefits and limitations. To make an informed decision on what is best for your business, you'll want to explore all the plan options in depth.
This blog post focuses on one plan option: exclusive provider organization (EPO) plans. We'll cover what they are, how they work, and their benefits and limitations to help you decide whether EPOs suit your small business and its employees.
What is an exclusive provider organization (EPO) plan?
What is an EPO?
An exclusive provider organization (EPO) insurance plan is a type of health insurance that offers its members a network of specified healthcare providers to choose from. They are a common option among businesses, and nearly a third of plans selected in the Affordable Care Act (ACA) Marketplace are EPO plans.
You can think of EPO plans as a mix of two other types of health plans: a health maintenance organization (HMO) and a preferred provider organization (PPO). It tries to find a middle ground between them by managing costs while still giving you a degree of flexibility in where you get healthcare.
Understanding EPO plans
Understanding EPO plans
While there are similarities, several features distinguish EPO plans from other health insurance options. Before we dive into details, here's a quick overview of the four most common types of health insurance plans and how they compare:
| | | | | |
| --- | --- | --- | --- | --- |
| | Health maintenance organization (HMO) | Exclusive provider organization plan (EPO) | Point-of-service plan (POS | Preferred provider organization (PPO) |
| Overall premium and deductible costs | Least expensive | Less expensive | More expensive | Most expensive |
| Plan flexibility | Least flexible | Less flexible | More flexible | Most flexible |
| Specialist referral needed | Yes | No | Yes | No |
| Deductible | Yes | Yes | Yes | Yes |
| Out-of-network coverage | No | No | Yes | Yes |
| Pre-authorization required for special procedures | Yes | Yes | Sometimes | Sometimes |
Let's look closer at EPO plans and see how they compare to the other three:
Both EPO and health maintenance organization (HMO) plans limit coverage to in-network providers. However, an HMO requires a referral from a primary care physician (PCP) to see a specialist, while an EPO does not. Additionally, EPO premiums are higher than those of an HMO because of the added flexibility EPO plans offer.
An exclusive provider organization (EPO) is a type of health insurance plan where the coverage only pays for care provided within its network, except for life-threatening emergencies. If you use services outside the EPO's approved network, you'll have to pay the total cost of care. EPO plans typically do not require members to choose a primary care physician (PCP) or obtain referrals to see specialists, offering flexibility in direct access to specialty care. They tend to have comparatively lower premiums but restrict coverage to in-network providers.
Point-of-service (POS) plans are more flexible than EPOs regarding coverage and offer both in- and out-of-network coverage, albeit out-of-network services are usually covered at a higher cost. Unlike EPO plans, POS structures still require a designated primary care physician who can provide referrals to specialists. EPO plans typically have lower premiums than POS plans.
Preferred provider organization (PPO) plans are the most flexible and comprehensive options. While both PPO and EPO plans provide flexibility in accessing specialists, the key difference lies in the out-of-network coverage: PPO plans offer it, while EPO plans don't. Also, EPO plans have lower premiums compared to PPO options due to their network restrictions.
Find the most updated information about plans and prices through the government portal at healthcare.gov.
Pros and cons of EPO insurance plans
Pros & Cons
There are benefits and drawbacks to offering EPO insurance plans. If you are serious about attracting top talent via enticing benefits packages, considering the pros and cons of EPO insurance options is critical in determining whether these plans are suitable.
Benefits of using an EPO
Cost-effective: EPO plans are one of the most affordable options when providing health insurance. For small businesses with limited resources and insurance budgets, the affordability of EPO plans makes them an attractive choice.
No referrals required: With an EPO plan, members do not need to endure long wait times or jump through hoops to get a referral from their doctor. EPO plans allow you to contact and make an appointment with any specialist within your exclusive provider network.
Large network: Similar to HMOs, EPO plans usually provide access to an extensive network of providers, giving members ample choices regarding physicians and specialists.
No need to choose a PCP: Since referrals from PCPs aren't required, those with EPO insurance plans don't have to choose a primary doctor to be eligible to enroll.
Limitations of an EPO plan
Network restrictions: Even though EPO plans grant access to a relatively large network of providers, the inability to go out-of-network is still a major drawback of these types of plans. Out-of-network services are sometimes necessary, and all medical expenses incurred outside the exclusive provider network would be out-of-pocket costs to those with an EPO plan. Medical expenses can quickly amount to tens of thousands of dollars without insurance coverage, exposing one of EPO plans' most significant disadvantages.
Regional limitations: EPO plans are generally regional in nature, meaning their network and providers serve a specific geographic area. While this regional focus can be advantageous for those living within the plan's designated region, it poses challenges for individuals with dependents residing outside of this area.
Burden of responsibility: The details of which provider or medical procedure is covered under an EPO plan aren't always apparent to those signing up. This means those choosing EPO plans have more responsibility to ensure they aren't accidentally receiving services out-of-network or without pre-authorization. For example, if a member receives a medical service without realizing it requires pre-authorization, they would be liable for the entire cost of the procedure.
Evaluating EPO plans for your small business
Evaluating EPO plans
You should do a thorough audit of your business's needs and goals before deciding if an EPO plan is suitable. Remember, your employees' needs are a key part of the conversation, so having an open, two-way dialogue with them is crucial for accurately evaluating whether an insurance plan is right for your business.
Here are some questions to ask to help determine whether an EPO is the best fit for your small business:
How will employees react to being restricted to in-network providers?
Do your employees have special, specific, or rare medical needs?
Does the EPO network include a diverse range of specialists and facilities?
Will employees find it convenient that they don't need to choose a primary care provider?
How easy is it to get pre-authorization for certain procedures in the EPO plan?
Does the EPO plan cover preventative care and wellness programs?
How have other similar small businesses fared with EPO plans?
What's the reputation of the insurance provider offering the EPO plan?
How do the costs of premiums, out-of-pocket-maximums, deductibles, copay, and coinsurance compare to other plans?
Comparing EPO plans with other health insurance options
Remember, the choice to offer health insurance is an investment, not just in the well-being of employees but also in your company's long-term success. That's why researching and comparing EPO plans with other options is essential.
EPO plans are viable offerings within level- and self-funded structures, and small businesses should do their research to understand the differences. When looking at options, it's critical to exercise due diligence and compare EPOs with other plans to find the one that best suits your business and employees' needs.
Sana Benefits
Sana's mission is to help small business owners offer their employees affordable, high-quality health insurance. With Sana, employees receive comprehensive health coverage at a fraction of traditional costs, flipping the script on the myth that small businesses can't afford health insurance.
Our PPO plans and flexible network make health insurance radically more accessible and affordable than ever while maintaining a high standard and quality of care. To find out if Sana Benefits is right for your small business, contact us and get a quote today.
Yes, most EPO plans have deductibles, an amount you'll have to pay out-of-pocket before your insurance coverage begins. While the exact number will vary depending on the plan, EPO deductibles are typically a fixed amount. 
To get an EPO plan, research your options and ensure your preferred providers are part of the EPO network. Next, check that the costs associated with premiums, deductibles, copayments, and coinsurance in your plan are numbers you and your employees can afford. Finally, apply for an EPO plan through the insurance company's website or health insurance marketplace during the open enrollment period.
No, EPO plans generally don't require you to obtain a referral to see a specialist as long as they are within the EPO's network. With an EPO plan, you can schedule an appointment with an in-network specialist directly without getting a referral from another doctor.