Sana Blog
/
How to give small business employees affordable virtual care
How to give small business employees affordable virtual care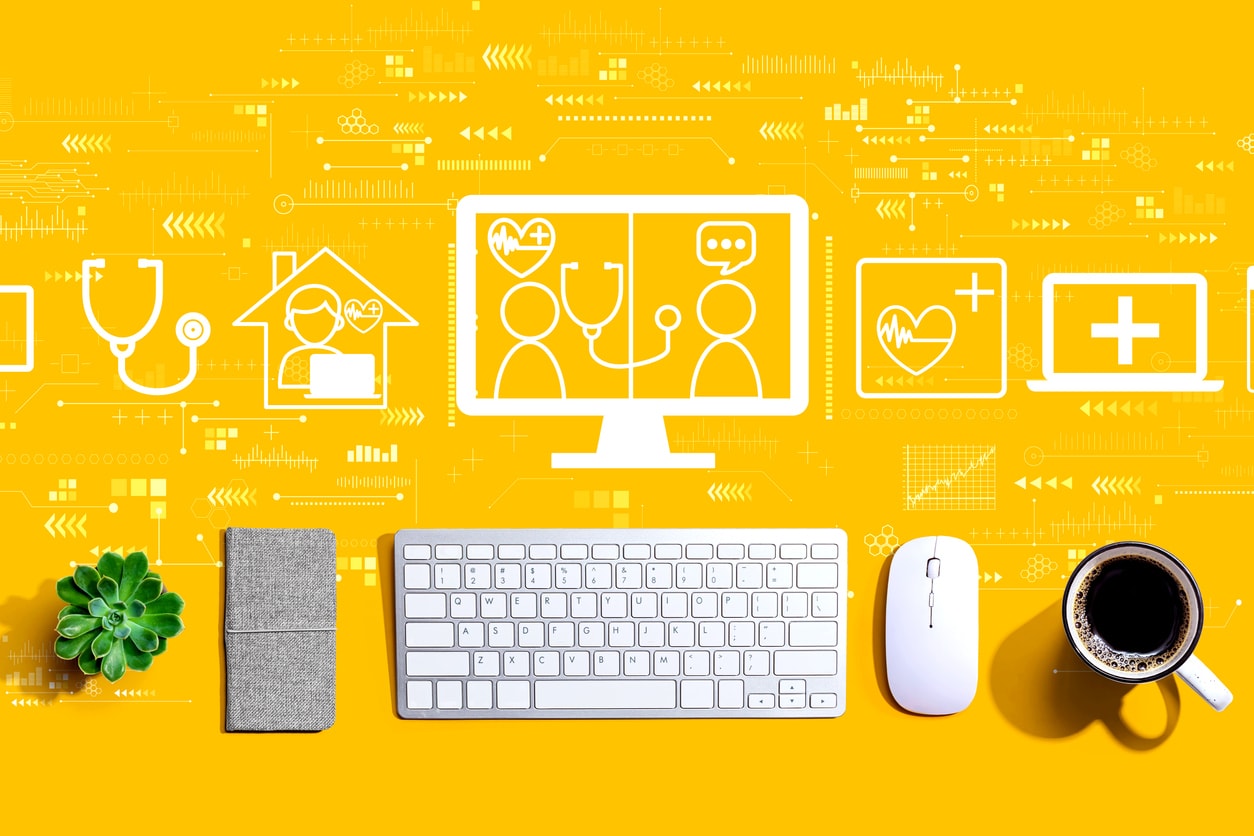 While virtual care existed as a means to deliver and receive care prior to the COVID-19 pandemic, there is no doubt that the pandemic has accelerated its adoption significantly among health plan providers. And large corporations aren't the only businesses including virtual care in their employee health plan offerings–an increasing number of small businesses now offer access to virtual care in their health benefits, too.
In 2021, for firms ranging from 50 to 199 employees1:
19% expanded the number or type of providers that could provide telemedicine services

19% expanded the number of services covered through telemedicine

47% increased their promotion or employee communication of telemedicine resources
Enabling and encouraging employees to leverage virtual care can help your small business save on healthcare costs in the short and long term, enhance workplace stability and employee productivity, and attract top talent.
Save on healthcare costs for your small business by offering access to virtual care
Year after year, healthcare costs continue to rise for both employees and employers. For employees, the average annual single and family premium increased 4% over the last year. Over the last five years, the average premium for family coverage has increased 22 percent.2 For employers, the average per-employee cost of employer-sponsored health insurance jumped 6.3% in 2021. This hike in costs was notably greater among smaller employers with 50 to 499 employees than among businesses of 500 or more employees. 3
Despite these increases in premiums, the introduction and widespread adoption of virtual care over the last few years has created numerous opportunities for small businesses and their employees to save on healthcare costs.
Generate near and long-term savings by supporting preventive and total-person virtual care
First, several types of care provided virtually can help generate savings for employees, and by extension for your small business.
Common illnesses

Virtual doctor visits are often a much less costly option for your employees than visiting a doctor in-person for common illnesses or issues such as a cold, pink eye, and UTIs. Depending on your health plan, these visits can have lower copays, or no copays at all, compared to in-person visits.
Emergency medicine

Emergency medicine is another area of healthcare in which telehealth brings significant savings for individuals and their small business employers. Using a virtual urgent care or telemedicine platform in place of a trip to the ER can generate savings from $300 to more than $1,500 per visit, and in turn keeps your small business's bottom line in check.4
Chronic care and remote patient monitoring

Advancements in virtual chronic care management and remote patient monitoring can also deliver significant cost savings for your employees and small business. Preventive care achieved through continuous monitoring has been shown to result in fewer in-person visits and better health outcomes, driving down costs in both the short- and long-term as the health of your employees has a higher chance of stabilizing or improving.
The immediate savings your small business will gain per virtual visit may seem relatively small. However, the real savings can come from avoiding preventable but expensive to treat diseases and conditions through more convenient and regular healthcare appointments. Small businesses can also experience savings indirectly when their employees use virtual care, as the convenience of telemedicine allows for less time spent traveling and waiting for appointments, and more time spent on performing job-related tasks.
Provide greater stability and satisfaction in the workplace
Offering virtual care for your small business employees both broadens their access to care and increases the quality of care available, especially in rural or less densely populated areas. In turn, this increase in the availability of high quality care can lead to higher job satisfaction and a more stable work environment. This is especially apparent when examining the benefits of virtual care to businesses that operate in rural areas of the country.
According to Pew Research Center, urban Americans live just 10 minutes away from the nearest hospital. However, rural Americans live an average of 17 minutes from their nearest hospital, with 25% of that group living more than half an hour away.5 Moreover, 65% of nonmetropolitan counties do not have a psychiatrist, and nearly half do not have a psychologist.6
For many of these rural residents, the alternative to receiving virtual care is to not seek care at all. So, the convenience of virtual care and telemedicine increases the likelihood of employees proactively managing their health. For your small business, this shift toward providing virtual methods of preventive care and expanding access to quality care can help improve morale and reduce disruptions in productivity.
One area of virtual care that has expanded to help further stability and employee satisfaction in the workplace is mental healthcare.


Help maintain a positive, healthy workforce for your small business with virtual mental healthcare offerings
The use of mental and behavioral health services has risen significantly among the American workforce due to the unprecedented amount of stress the general population experienced during the pandemic.
As previously noted, the barriers to accessing mental health services can be quite high for employees living in rural areas. Thankfully, many small businesses are already increasing their commitment to providing access to mental health services for their employees. In 2021, 38% of smaller firms provided or expanded online counseling services for emotional distress, relationship issues, or other stressful situations.7
Additionally, according to the EBRI 2021 Workplace Wellness Survey:
Nearly 50 percent of employees reported that mental health wellness programs are more important than they were before the pandemic, but only 32 percent said their employer health plan offers mental health resources.

60 percent of employees reported that their employers' efforts to address employee wellbeing have stayed the same since the start of the pandemic. Only 31 percent said efforts have increased.

76 percent of employees agreed that their employer had a responsibility to ensure that employees are mentally healthy
These data illustrate that while mental healthcare has become increasingly important to the American workforce, businesses have a long way to go in providing resources to match demand.
While legacy health insurers are known for having limited in-network access to mental healthcare providers, many modern health benefits providers include virtual mental healthcare in their health plans, often at a fraction of the cost. As these modern health plans are often more affordable options for small businesses, it is becoming even more important from a competition standpoint to ensure that you are offering top-of-the-line benefits that address your workforce's complex health needs.
Help your small business remain competitive in the market for top talent
As you can see, providing access to virtual care in your small business benefits package is one meaningful way to show your willingness to invest in your employees' short and long-term health. This display of care for your employees is also a great way your small business can stand out and attract prospective job candidates, particularly among Gen Z and millennials.
Gen Z and millennials value convenient, high quality, affordable health care
At 83 million, millennials now make up the largest segment of today's American workforce. Both Gen Z and millennials value convenient methods of receiving healthcare, so providing health benefits that can be accessed easily and efficiently, such as telehealth, is one way your small business can stay competitive when looking to hire new talent.
In fact, these generations value convenience so much that 44 percent of Gen Z and millennials state that they may switch providers if telehealth visits aren't offered going forward.8
Many small businesses expanded the number of services covered through telemedicine in 2021. As virtual care becomes more and more commonplace, prospective employees will view it as a necessary part of your overall benefits package. However, affordable virtual care has not become commonplace across the entire care spectrum.
For example, while many small businesses have broadened their health benefits to offer mental healthcare, not all of these offerings include options to receive virtual mental healthcare, and especially not at a low cost.
Nearly half of Generation Z respondents in a recent survey have been diagnosed with anxiety or depression, with women particularly affected. In contrast just 19% of boomers reported the same diagnoses.9 As mentioned above, some modern health insurers include virtual mental healthcare in their benefits offerings at no additional cost. Purchasing small business health plans that offer telehealth as a convenient, affordable way of receiving mental healthcare can help you stand out from the competition and attract top talent.
Offer virtual care to your employees through a modern health benefits provider
Your small business can benefit greatly from including virtual care in your health benefits for employees. With a greater number of your employees receiving care conveniently and efficiently through telehealth, your small business can scale while saving on healthcare costs, maintain a stable, satisfied and productive workforce, and attract top talent.
While most legacy health insurers do offer options for virtual care in their health plans, they are generally not as robust or as affordable as those offered by Sana. Our plans include high quality, reliable virtual care at little or no cost within our small business health plans that cover the following:
Primary care

Pediatric care

Maternity care

Health and nutrition coaching

Mental health

MSK therapy

Fitness classes
Sana offers Fortune 500-level health benefits for small and midsize businesses, and all of our plans include virtual care. Get a quote today to learn more about Sana health plans.