Sana Blog
/
Sana shares: Good news in healthcare
Sana shares: Good news in healthcare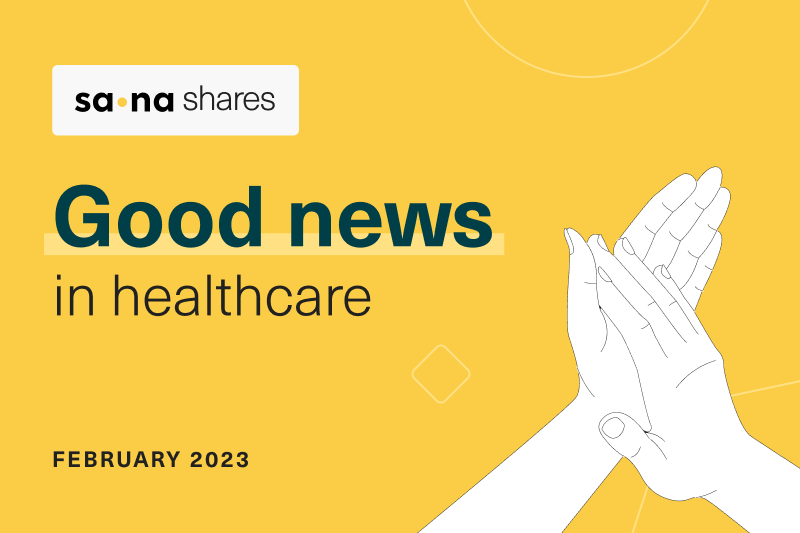 The U.S. health system is broken, and it's a big problem. Sana's goal is to be a part of the solution — by bringing affordable, dependable health plans to the often neglected small business sector.
But it takes a village to tackle the "healthcare Leviathan." Doctors, scientists, researchers, lawmakers, health plans, and employers are all in it together.
We created this monthly roundup of happy headlines related to healthcare as a reminder that things are getting better — slowly but surely. It's our way of celebrating the achievements of others who are as passionate as we are about fixing the system.
A recent study showed that levodopa — a drug that increases dopamine in the brain — can reverse the effects of inflammation on the brain's reward pathways, alleviating depression symptoms such as low motivation and reduced ability to experience pleasure. While the drug is usually prescribed to treat Parkinson's disease, this study could lead to the use of dopamine-boosting drugs to treat depressed patients with high inflammation.
Medical jargon often creates misunderstandings between doctor and patient, so a nonprofit created Patient Decision Aids (PDAs) that describe medical procedures at a middle school health literacy level. In a recent study, patients who received a PDA before meeting with their physician about an upcoming procedure reported understanding it better and feeling more listened to by their doctor.
Dr. Nora Disis — Director of the Cancer Vaccine Institute at UW Medicine — and her team are developing a vaccine that teaches the body's immune system to destroy cells expressing HER2, a protein that helps breast cancer cells grow quickly. If the ongoing phase 2 trial proves as successful as phase 1, vaccines could become part of the standard of care of breast cancer treatment within a decade.
Pearl Health, a tech company that helps independent physician practices participate in value-based care (VBC) models, just raised $75 million in a Series B funding round. Pearl's platform collects and synthesizes data from health plans, hospitals, and pharmacies and delivers it to physicians — helping them prioritize better outcomes and lower costs for patients whose extreme and chronic conditions are driving expenses.
Femtech — health software and tech-powered products designed to improve women's health — is helping close the major gaps that exist in women's health research and treatment ability. For instance, there are now apps that (1) give specific health recommendations to women based on where they are in their menstrual cycles, (2) educate on and provide relief from hormonal disorders, and (3) increase access to birth control.
At Sana, our mission is to make healthcare understandable, accessible, and affordable for all. Working toward that mission means we are invested in many of the causes listed above:
Steering our members toward value-based care models — such as advanced primary care at Sana MD and Centers of Excellence through our partner, Carrum Health
Distributing health plan materials in plain, understandable language
If you want to offer your employees better health benefits, get a quote from Sana. We have 2-3x the customer satisfaction, less network restriction, and more ways to get $0 healthcare compared to legacy health insurers.