Sana Blog
/
Sana shares: Good news in healthcare
Sana shares: Good news in healthcare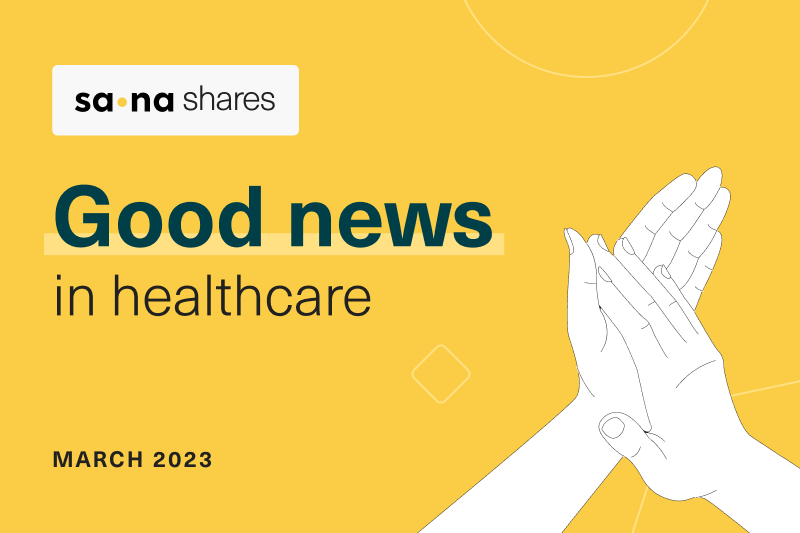 The U.S. health system is broken, and it's a big problem. Sana's goal is to be a part of the solution — by bringing affordable, dependable health plans to the often neglected small business sector.
But it takes a village to tackle the "healthcare Leviathan." Doctors, scientists, researchers, lawmakers, health plans, and employers are all in it together.
We created this monthly roundup of happy headlines related to healthcare as a reminder that things are getting better — slowly but surely. It's our way of celebrating the achievements of others who are as passionate as we are about fixing the system.
Remote patient monitoring, or the use of wearable devices and ambient home sensors to gather patients' health metrics outside of clinical settings, is an emerging field with a bright future. It has the potential to: give providers a fuller picture of patients' health, allow older people to safely live at home for longer, improve health equity by expanding access to care, and transform the way data is gathered in clinical trials.
A recent study found that three to four stints of vigorous intermittent lifestyle physical activity (VILPA) every day can reduce deaths from cardiovascular disease by 49%. VILPA refers to one- to two-minute bursts of incidental exercise, such as chasing a child or running up flights of stairs. Participants in the study were monitored over seven years using wearable activity trackers and did not do any other sports or structured exercise.
UT Health San Antonio is addressing healthcare provider shortages and health inequities in rural Texas with its mobile clinic — a bus with two exam rooms, all the supplies found in a regular doctor's office, and lab testing equipment. The mobile clinic's staff brings care to children in rural communities where they may otherwise be unable to access care the day they need it.
Scientists have discovered that bits of genetic material called extrachromosomal DNA, or ecDNA, are responsible for helping tumors spread rapidly and gain resistance to anti-cancer drugs. Cancer-causing oncogenes hide in ecDNA, a "criminal mastermind" that can disappear from a tumor during drug treatments and then reappear once treatment ends. Now that ecDNA's nefarious behavior has been pinpointed, scientists can work to fight it.
Artificial intelligence (AI) can automate processes such as hospital discharge and patient chart preparation, freeing up healthcare workers to interface with patients more and worry about mundane tasks less — while also reducing healthcare spending by 5% to 10%. AI may also improve health outcomes by helping doctors make quicker, more informed health decisions. For instance, AI can feed providers the most up-to-date clinical data to aid with diagnosis.
At Sana, we believe that it is possible to fix the broken healthcare system and make healthcare understandable, accessible, and affordable for all.
We make it easy for small business owners to offer a top-notch, comprehensive benefits package that includes no-cost virtual care and therapy for your employees. Get a quote for your small business.