Sana Blog
/
Why virtual care is beneficial for small businesses
Why virtual care is beneficial for small businesses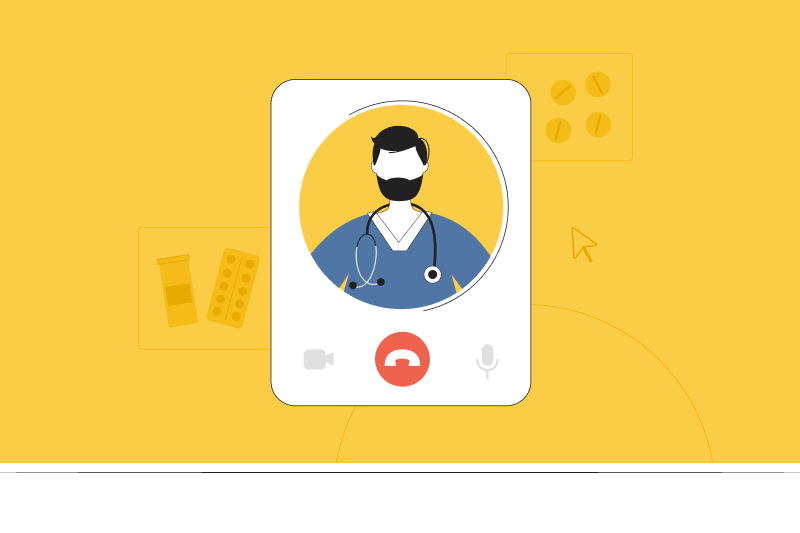 Small employers should hop on the virtual care bandwagon sooner rather than later. Why? Because high-quality virtual care can improve access to care and health outcomes for your employees — which can save your small business money in more ways than one.
The statistics behind virtual care
It's no secret that the use of virtual healthcare skyrocketed when the COVID-19 pandemic began. According to McKinsey, telehealth utilization was 78x higher in April 2020 than it was two months prior in February 2020.
Virtual care utilization decreased once pandemic lockdowns eased, but it remains far more commonplace than it was pre-pandemic. A 2022 study revealed that 67% of patients have used telehealth in the past year, compared to 37% in 2019.
As venture capital pours into digital health solutions and spurs innovation in the market, patients are discovering their options and deciding how they like to utilize virtual care. While most patients prefer in-person visits for specialty care, many prefer to receive routine care virtually.
60% of patients find virtual visits more convenient than in-person ones. Of those who use telehealth:
55% prefer virtual visits for primary care
45% prefer virtual visits for mental healthcare
About 70% prefer virtual visits for discussing test results and reviewing medication options
Employers are catching onto these patient preferences — according to Kaiser Family Foundation's 2022 Employer Benefits Survey, 87% of small firms and 96% of large firms with 50+ employees that offer health benefits cover some healthcare services through telemedicine in their largest health plan. Over 65% of employers surveyed believe telemedicine will be "important" or "very important" to the future provision of behavioral healthcare, primary care, and access to care for enrollees in remote areas.
The benefits of virtual care
Ways virtual care improves health equity
Health equity is "the state in which everyone has a fair and just opportunity to attain their highest level of health," according to the CDC.
Achieving a state of health equity involves fighting generational injustices that make it more difficult for certain people to access good health and healthcare than others. For instance, poverty and discrimination — on the basis of race, ethnicity, disability, sex, etc. — are obstacles to optimal health and high-quality healthcare that must be addressed in order to achieve health equity.
Virtual care improves health equity by making healthcare more accessible to medically underserved groups. It does this in two ways:
For one, virtual care makes it easier for patients with obstacles to in-person care to access the care they need. Examples include:
People who live in healthcare deserts: Many Americans, particularly those in rural areas and low-income urban areas, live prohibitively far from the nearest hospital, pharmacy, trauma care center, or specialty care center they need. Nearly 80% of the rural U.S. is medically underserved. The ability to receive virtual care at home eliminates costly, lengthy commutes to the nearest provider — and, in many cases, provides an option for care when the alternative would be forgoing care altogether.
People with disabilities: While there is a need for more disability-inclusive telehealth services, virtual care can improve access to care for some people with disabilities.
People with inflexible schedules: Some people cannot find the time to see the doctor in person even if they live relatively close to the medical facilities they need — work schedules or caretaking demands may prevent them from taking off multiple hours during the day when the doctor's office is open to commute there, wait in the waiting room, have the appointment, and commute back. Virtual care eliminates commute times, drastically reduces wait times, and can increase patients' ability to get after-hours care.
Secondly, the rise of virtual care has inspired the proliferation of healthcare platforms designed to address the healthcare needs of specific communities that have been historically disenfranchised by the U.S. healthcare system. For example, FOLX provides affirming virtual care to the LBGTQ+ community.
As an employer, it is important to recognize that your employees may have diverse obstacles to healthcare and unique healthcare needs. Offering inclusive virtual care options to employees is a great way to demonstrate that you are committed to the pursuit of health equity.
Ways virtual care saves employers money
Poor health costs U.S. employers $575 billion and 1.5 billion days of productivity annually. When employees utilize the virtual care options available to them, employers can reap the financial rewards of their improved health and reduced absenteeism.
Virtual care gives employees the opportunity to get and stay healthy more easily — and often more cheaply. According to a 2017 study, the average cost of a telehealth visit is $79, compared to $146 for an in-person visit. Employers can even make virtual care completely free for employees by partnering with a health plan that includes $0 virtual care options.
The relative convenience and affordability of virtual care compared to in-person care makes many people more inclined to use it. When employees are sick, access to low- or no-cost virtual care may make them more likely to see a doctor in a timely fashion (or at all), helping them to recover and get back to work more quickly. When employees are well, access to virtual primary care, chronic condition management, and mental healthcare can encourage them to proactively manage their health. This may help them avoid physical and mental illness and prevent them from missing work in the first place.
Offering a robust, modern health benefits package that includes virtual care also helps small businesses stand out and attract prospective job candidates. Gen Z and Millennials in particular value convenience and efficiency when it comes to healthcare — 44% of them say they would consider switching providers if their current one stopped offering virtual visits. Small employers run the risk of attracting fewer young job seekers if their health benefits packages lag behind generational preferences.
Finally, studies suggest that healthy employees are more productive at work, sparing employers the astronomically high cost of disengaged employees.
Benefits of virtual care with a self-funded insurance plan
On traditional insurance plans, employers pay insurance carriers a fixed monthly premium to manage and pay for their employees' healthcare. Whether employees use a lot of healthcare in a given month or don't use any, the employer still owes the same monthly premium.
By contrast, on a self-funded insurance plan, the employer only pays for the healthcare their employees actually use. Therefore, self-funded employers are incentivized to help employees stay healthy in order to reduce the number of expensive medical claims — such as emergency room visits and surgeries — they accrue over time.
While providing numerous high-quality virtual care options to employees is certainly an upfront investment for a self-funded employer, it is a worthwhile one. It can make individual medical claims cheaper in the short term. For instance, if an employee chooses to schedule a virtual visit when they have the flu instead of going to the emergency room, their total bill (and therefore the employer's share of the bill) will be far lower — an avoided emergency department visit generates cost savings ranging from $309 to more than $1,500.
But the real savings take place over the long term. Virtual care helps employees conveniently and cheaply manage chronic conditions, implement healthy lifestyle changes, and detect illnesses sooner. Over time, this can result in significant cost savings for self-funded employers.
If you are a small employer wanting to escape the cycle of high health insurance premiums that increase every year, you can reclaim control over your employee health benefits by switching to a self-funded plan.
Sana Benefits offers level-funded plans, a type of self-funding that protects small employers against catastrophic claims by placing a cap on what you could owe. Our plans include a suite of virtual care providers that your employees can use to get and stay healthy — for $0. Get a quote today.
Frequently asked questions about virtual care
Virtual care is when a patient and a provider interact remotely, whether via video call, phone call, or instant messaging.
One disadvantage of virtual care is that there are certain medical services that are impossible or more difficult to provide remotely. For instance, lab work and x-rays cannot be done virtually, while things like listening to a patient's breath and examining their throat are more difficult to do over a video call than in person. 
Another disadvantage of virtual care is that transferring personal health data electronically poses the threat of a security breach. Though most legitimate virtual care apps and systems are secure, patients lack complete control over how their data is collected, used, stored, and shared.
Telemedicine is important because it reduces barriers and increases access to healthcare, improves healthcare affordability and health outcomes, and promotes health equity.