Sana Blog
/
Sana shares: Good news in healthcare
Sana shares: Good news in healthcare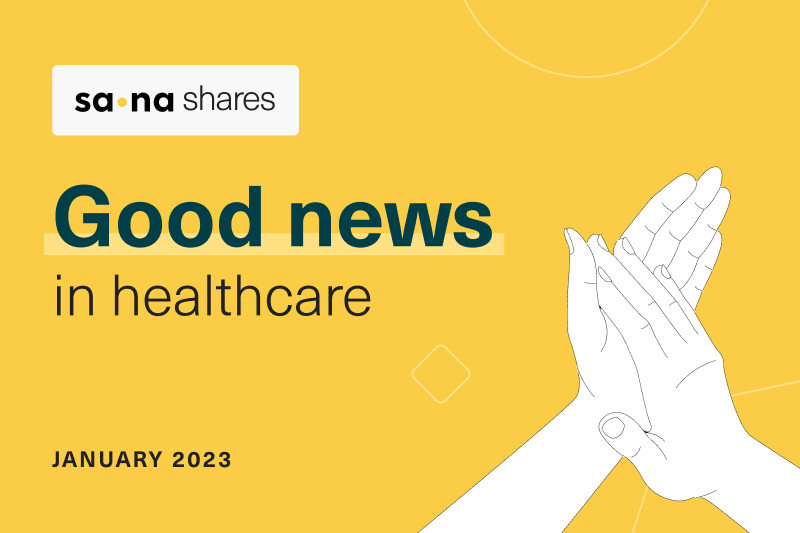 The U.S. health system is broken, and it's a big problem. Sana's goal is to be a part of the solution — by bringing affordable, dependable health plans to the often neglected small business sector.
But it takes a village to tackle the "healthcare Leviathan." Doctors, scientists, researchers, lawmakers, health plans, and employers are all in it together.
We created this monthly roundup of happy headlines related to healthcare as a reminder that things are getting better — slowly but surely. It's our way of celebrating the achievements of others who are as passionate as we are about fixing the system.
A new drug being tested for colorectal cancer has shocked doctors with its unprecedented 100% success rate in clinical trials. The drug, Dostarlimab, works by assisting the body's immune system instead of directly attacking the cancer, and it has caused all evidence of cancer to disappear in every patient involved in studies so far.
Dr. Baron Nason — owner of a healthcare center in Charleston, South Carolina called NasonCare — is giving away free healthcare to ten local small businesses. Primary care greatly improves health outcomes, but he knows that many community members forgo it because their employers lack affordable options for group health insurance.
District Attorney Alvin Bragg's $9 million initiative includes proactive outreach to unhoused individuals in Manhattan, as well as expedited mental healthcare and housing services for defendants — who have historically had to wait weeks or months for care. Now social workers will meet defendants immediately following their initial court hearings to connect them to the items and services they need.
The Enhanced Primary Care Diabetes (EPCD) model is a new team-centered yet nurse-led model that allows primary care practices to better manage patients with diabetes — without requiring additional resources. It focuses on all aspects of a composite quality indicator called D5 as opposed to glycemic control alone, as many models do, and is linked to improvements in diabetes care quality.
In a study of nearly 1,800 patients in the early stages of Alzheimer's, those who got a drug called Lecanemab for 18 months experienced 27% less decline in memory and thinking — a "modest" benefit, but a large improvement over other drugs of its kind. The drug contains monoclonal antibodies designed to remove the sticky plaques on the brain caused by Alzheimer's.
Sana is dedicated to many of the causes listed above — expanding access to affordable small business health insurance, improving chronic condition management via advanced primary care models, and ensuring widespread access to mental and behavioral healthcare. 
If you are a small business owner who wants to play a part in tackling the U.S. healthcare crisis, consider offering modern health plans to your employees through Sana. We can help you offer better benefits and improve your employees' health outcomes. Get a quote.