Sana Blog
/
Healthcare trailblazers: Cleveland Clinic's Healthy Choice Program
Healthcare trailblazers: Cleveland Clinic's Healthy Choice Program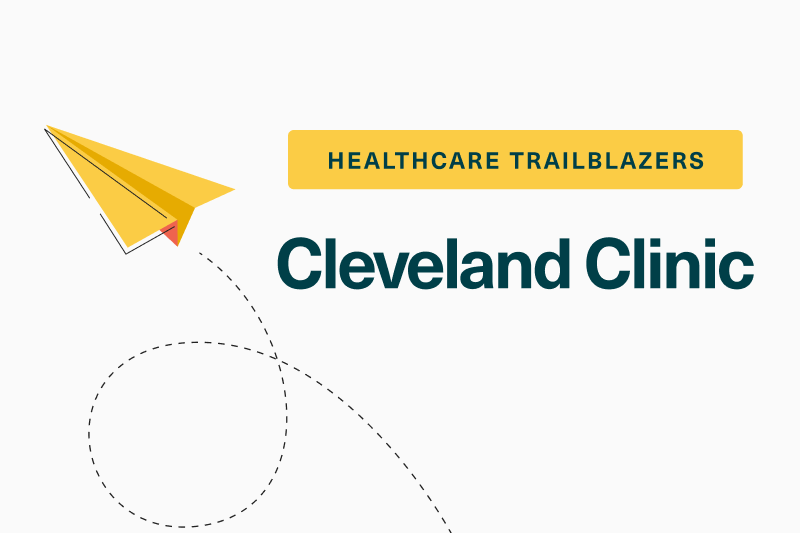 Healthcare in the U.S. is a broken industry in need of trailblazers.
The U.S. spends roughly double what comparable countries spend on healthcare — but ranks dead last among them in healthcare outcomes, equity, efficiency, and access.
With 50% of Americans getting health insurance through their employers, businesses bear the brunt of this value crisis. Now that healthcare is their second-largest expense, many businesses, large and small, are refusing to accept the exorbitant cost and poor quality of healthcare.
In this series, we highlight businesses that are challenging the status quo by embracing — and, in some cases, pioneering — modern healthcare models. These innovative approaches to healthcare provide increased value at fair prices. The result is better health outcomes and lower costs for employers and employees alike.
Case study: Cleveland Clinic
Case study: Cleveland Clinic
Cleveland Clinic is a non-profit, multispecialty academic medical center in Cleveland, Ohio. It is known for providing excellent clinical and hospital care. The U.S. News & World Report's annual survey consistently names Cleveland Clinic one of the country's best hospitals. Also famous for conducting cutting-edge medical research, Cleveland Clinic has been the site of many medical innovations — such as the discovery of serotonin in 1948, the first coronary artery bypass surgery in 1967, the first face transplant in the U.S. in 2008, and the development of a breast cancer vaccine in 2021.
But Cleveland Clinic is not just a pioneer of clinical research. The medical center is also a trailblazer in the employee healthcare space, with its Healthy Choice Program epitomizing a successful employee wellness program that has resulted in significant healthcare savings and phenomenal health outcomes. The Healthy Choice Program's premise is simple: When employees (and their spouses) are taking charge of their own health, employee healthcare costs go down, and employee wellbeing goes way up.
Participation in the Healthy Choice Program is optional for members on Cleveland Clinic's Employee Health Plan. Those who choose to enroll in the program are incentivized to get and stay healthy. For some, that might mean quitting smoking, while for others it might mean losing weight, exercising regularly, or managing their chronic conditions. The program sets personalized health goals for participants based on their health status, and those who meet them are eligible to save up to 30% on their health plan premiums.
The program as it exists today was launched in 2009, but the institution's commitment to employee wellness dates back to 2005, when newly appointed CEO Dr. Cosgrove began executing his mission to make all Cleveland Clinic campuses smoke-free and free of junk foods. All campus food vendors and even vending machines were systematically overhauled to eliminate things like trans fats and added sugars, and an outdoor farmer's market was later established on campus to give employees easy access to local, nutritious foods. And as early as 2006, employee compliance with the smoke-free campus policy was estimated at 99%.
The Healthy Choice Program builds on his legacy by rewarding employees and their spouses for making healthy lifestyle choices both on- and off-campus. For all participants, there is a heavy emphasis placed on physical activity, which wearable movement trackers are used to measure. In 2018, 80% of participants in the program met the physical activity threshold set by the program director.
Participants with one or more chronic conditions — including tobacco use, asthma, being overweight, diabetes, high blood pressure, and asthma — must enroll in a Coordinated Care program for each condition they have and meet the goals their doctor sets for them. As of 2019, the number of employees with no (or improved) chronic disease biomarkers had increased seven-fold.
The program has saved Cleveland Clinic over $1 billion on employee healthcare, and it has saved employees $300 million on premium costs.
The Healthy Choice Program is a testament to the massive impact employee wellness programs can have on health outcomes and healthcare spend. Cleveland Clinic is a large healthcare institution, which means that it is in a unique position to continually monitor the health of employees and reward them for adherence to individualized health protocols. But just because every small business can't adopt Cleveland Clinic's exact model doesn't mean they can't take steps to encourage employee wellness.
Sana is a modern health insurance company that gives small business employees $0 and low-cost access to many of the elements that have made the Healthy Choice Program so successful — such as virtual health coaching, wearable movement trackers sent to members' homes, preventive care through an advanced primary care center, and chronic condition management. Get a quote for your small business today.