Sana Blog
/
Buying small business health insurance in Arizona: The ultimate guide
Buying small business health insurance in Arizona: The ultimate guide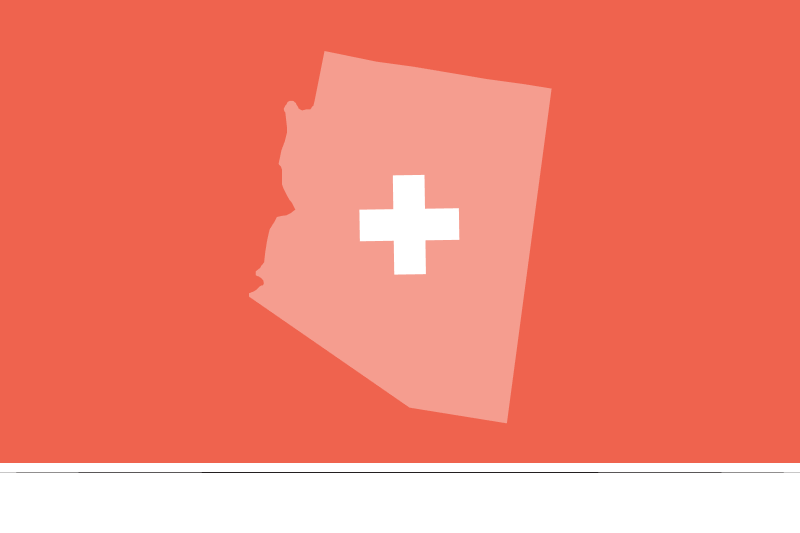 If you're a small business owner in Arizona, you might be thinking of offering health benefits to your workers for the first time. Or maybe you're considering switching to a benefits provider that's proactively combatting healthcare inflation to meet the needs of small business owners.
This guide will cover all the information you need in order to decide, including:
Laws regarding Arizona small business health insurance
Costs of Arizona small business health insurance
Modern health insurance companies in Arizona
Legacy health insurance carriers in Arizona
More than half of American employees say health insurance is the main workplace benefit affecting whether they like their job. Employee surveys also show that companies offering comprehensive employer-provided healthcare are more likely to attract and retain employees.
Arizona state regulations for health insurance
Arizona state regulations regarding health insurance follow the standards set by the federal government through the Affordable Care Act. Additionally, small businesses offering health insurance in Arizona might be eligible for a tax credit.
The Affordable Care Act
According to federal mandates under the Patient Protection and Affordable Care Act (PPACA), any company with 50 or more full-time employees does not qualify as a small business and must provide affordable healthcare benefits or risk facing federal fines.
Smaller companies (between 2 and 50 employees) can choose whether to offer health insurance in Arizona. So, Arizona small business employees may or may not be offered health insurance through their employer.
If they do, these company-sponsored plans must meet certain criteria to ensure they're affordable. According to the PPACA, employees can spend up to 9.12% of their household income on monthly premiums. Additionally, benefits in employer-sponsored plans must be equal to those found in the bronze-level plans on the Arizona exchange.
Small business health tax credit
Many companies earn a tax credit for providing health insurance. For businesses to qualify, they must have 25 or fewer full-time employees, contribute at least 50% toward employee coverage, and pay an average annual wage of $50,000 or less.
Qualifying small businesses receive a federal tax credit of up to 50% of employee medical, vision, and dental insurance premiums. Tax-exempt organizations may receive a credit of up to 35%. Small businesses with fewer than ten full-time employees and average annual wages of $25,000 or less may qualify for the full tax credit.
The cost of health insurance in Arizona for employers
The Kaiser Family Foundation (KFF) 2022 Employer Health Benefits Survey breaks down national numbers, showing how much Americans pay for health insurance premiums with company-sponsored plans.  Nationwide in 2022, employees contributed, on average, 17% of the premium for individual plans and 28% for family plans.
Here's how those numbers compare with Arizona's state-specific data from the 2021 KFF report:
Average annual premium for single coverage in Arizona:
| | | |
| --- | --- | --- |
| | Percentage | Dollar amount |
| Employee Contribution | 24% | $1,630 |
| Employer Contribution | 76% | $5,098 |
| Total | 100% | $6,728 |
Average annual premium for family coverage in Arizona:
| | | |
| --- | --- | --- |
| | Percentage | Dollar amount |
| Employee Contribution | 35% | $7,091 |
| Employer Contribution | 65% | $13,026 |
| Total | 100% | $20,117 |
Best health insurance for Arizona small businesses
There are plenty of options when it comes to insurance companies. To make the best choice, let's first understand the difference between modern and legacy companies and what that means for small business success.
Modern insurance companies serving small businesses in Arizona
A new generation of modern insurance companies has been challenging the status quo of how Arizona small businesses provide health coverage. Two main ways these companies differ from the old guard are level-funded plans and value-based care. Through these strategies, modern insurance companies have created a win-win paradigm. Employees get comprehensive insurance plans and small businesses get more cost-effective options.
Level-funding: This means that small businesses agree to pay part of their employees' healthcare coverage costs through a fixed monthly amount (or level premium) that goes into a claims fund. The employees' claims are paid from that fund each month, with any overage being covered by stop-loss insurance. Like traditional fully funded insurance plans, it has the advantage of predictable monthly premiums. Unlike fully funded plans, it allows small businesses to (a) get a refund or credit for unused claims fund dollars and (b) to reduce their health insurance cost in future years by maintaining lower costs in the current year (something not allowed in fully funded plans).
Value-based care: Traditionally, the healthcare/health insurance system has put little focus on the relationship between healthcare price and quality. But many modern health insurance companies are focused on increasing the value their customers get from each healthcare dollar spent. Whether that's using capitated payment models, referenced-based pricing, or health outcome-based models, they are challenging the traditional hugely inflated "discounted network prices" that legacy carriers have relied on.
Several modern companies in Arizona, including Sana and Oscar Health, have already adopted these ideas and are making waves in the industry. However, only one company offers services explicitly tailored to the needs of small business owners.
Sana Benefits
Sana is the top option for small companies in Arizona looking to start offering health insurance.
We believe in putting employees first and understand this mindset to be critical for a company's future success. We want everyone to understand how healthcare coverage works, and our philosophy is that it should be accessible and affordable for all. Through a range of healthcare plans, we make sure employees' needs are met, and that there's comprehensive care available for every budget.
Some of Sana's standout features include:
Flexible network coverage: The ease and versatility of Sana's coverage model make you wonder how anyone deals with anything else. Sana will work with any provider, even those outside of the Sana network, allowing members to see their preferred providers without ever paying out-of-network fees.
Cost savings: Since 2018, Sana has helped small businesses save over $320 million in medical billing. Businesses saved $180 million using Sana in the past year alone. That saves Sana customers a lot of money in year one, but since their level-funded plan pricing is based on their own claims, it also gives them lower premiums in future years.
Free services: Sana's care partners also provide various free options, ranging from virtual primary care, pediatrics, and mental health to lab work and imaging.
Sana was designed to make plan management easier. And when questions arise, a responsive customer support team is always available.
Legacy carriers of small business health insurance in Arizona
Legacy insurance companies are another option. Legacy carriers have been around for decades and offer insurance for companies of all sizes. The top three companies currently offering small group insurance in Arizona are United Healthcare, Blue Cross Blue Shield of Arizona, and Humana. Here's a brief overview of each:
Humana provides individual and family plans, employer-sponsored plans, and Medicare plans. Their network offers diverse health and wellness programs, catering to the needs of various customer segments, from individuals and families to employers and government-sponsored programs.
United Healthcare offers similar options with individual and family, employer-sponsored, and Medicare plans. They have an extensive network of healthcare providers with additional programs, including virtual care options.
Blue Cross Blue Shield of Arizona offers various health plans for individuals, families, and businesses in the state. They have a massive network of healthcare providers, offering health and wellness programs, including virtual care, chronic disease management, and preventive care.
Check out how Sana compares to BCBSAZ.
Getting quotes for group medical insurance in Arizona
One way to obtain health insurance in Arizona is through government programs like the Arizona Health Care Cost Containment System (AHCCCS). Another way is buying it directly through HealthCare.gov, the federal health insurance marketplace known as the "exchange."
Contacting companies through the Arizona's marketplace exchange is one way to get a quote for group medical insurance plans. Once you have multiple quotes, using online services to compare costs and benefits is also a good idea.
However, the most common way for Americans to get health coverage is through their employer or that of a spouse or parent. These are known as employer-sponsored group plans.Sana is perfect for any company that has between 2 and 300 employees. If you're ready to make the switch and want to see if Sana is right for your Arizona business, get a quote today.
Arizona small business health insurance FAQs
Between 2 and 50. As per federal law, any business employing 2–50 people qualifies for a small employer medical expense plan.
In Arizona, free healthcare is called Medicaid, provided through the Arizona Health Care Cost Containment System (AHCCCS).
In Arizona, for small employer group health insurance plans offered through the SHOP program, at least 70% of full-time employees must enroll in the plan. For other plans, the participation rate requirement will likely be set by the insurer.