Sana Blog
/
Small business health insurance in Indiana: The ultimate guide
Small business health insurance in Indiana: The ultimate guide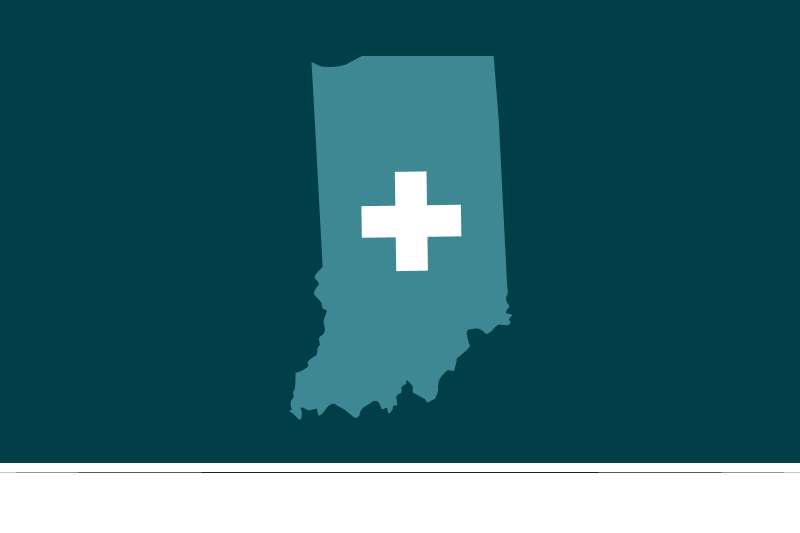 In the dynamic world of small business, where every decision employers make has direct implications for the success and well-being of their business, health insurance stands as a cornerstone for building a stable and successful organization. However, finding affordable health insurance for employees can be overwhelming, especially for new businesses.
This ultimate guide will help small employers understand how to manage small business health insurance in Indiana, including:
Health insurance regulations for employers in Indiana
Small business health insurance costs in Indiana
Indiana's modern and legacy health insurance companies for small businesses
Getting quotes for group medical insurance in Indiana
Group health insurance brokers in Indiana
Any small business owner knows that their employees are their most valuable asset. However, they may not realize just how instrumental offering small business health insurance in Indiana can be in drawing and retaining skilled employees.
According to a 2020 survey conducted by Group Risk Development (GRiD), 32% of employees state that employee benefits are as important to them as salary. And 62% would even accept a lower salary in exchange for better benefits, with health insurance the number one benefit that employees wanted.
Indiana state regulations for health insurance
According to Indiana's small employer group health insurance law, small employers are not required to provide health insurance for their employees.
Any business structure can be considered a small employer, including a(n):
Person
Firm
Corporation
Limited liability company (LLC)
Partnership
Association actively engaged in business
To qualify as a small employer, an Indiana business must have employed between 2 and 50 full-time employees (FTEs) on at least 50% of the working days during the preceding calendar year, and the majority of the employees must have worked in Indiana.
FTEs are employees who work at least 30 hours each week. This includes sole proprietors, a partner in a partnership, and owners of an S corporation. Substitute, temporary, and seasonal employees are not considered full-time employees.
In Indiana, small businesses can provide health coverage to their employees through the Small Business Health Options Program (SHOP).
Tax credits for small business health insurance in Indiana
Small employers offering SHOP to their employees might be eligible to receive a substantial federal tax credit. The government may cover up to 50% of premium contributions for small businesses (up to 35% for non-profits).
Businesses must fulfill the following criteria to be eligible for the tax credit:
Their business should have 25 or fewer full-time equivalent employees.
They must offer SHOP coverage to all FTEs.
They must enroll at least 70% of their FTEs in SHOP insurance plans.
They must have a physical work location in Indiana.
The cost of health insurance in Indiana for employers
KFF, a leading health policy non-profit organization, issued state-specific premiums reports from 2021 which showed Indiana's average annual premiums were $7,635 for single coverage and $21,281 for family coverage. Therefore, Indiana's typical yearly premiums for employer-sponsored health coverage are lower than the U.S. average, which is $7,911 for individual coverage and $22,463 for family coverage.
Employers contributed close to 77% of the premiums for single healthcare plans and 73% for family healthcare plans.
Average annual premium for single coverage in Indiana
| | | |
| --- | --- | --- |
| | Percentage | Dollar amount |
| Employee Contribution | 23% | $1,733 |
| Employer Contribution | 77% | $5,902 |
| Total | 100% | $7,635 |
Data from KFF
Average annual premium for family coverage in Indiana
| | | |
| --- | --- | --- |
| | Percentage | Dollar amount |
| Employee Contribution | 27% | $5,801 |
| Employer Contribution | 73% | $15,480 |
| Total | 100% | $21,281 |
Data from KFF
Best health insurance for Indiana small businesses
Several health insurance companies offer plans tailored to small businesses and each comes with unique advantages.
Modern insurance companies serving small businesses in Indiana
An array of modern, innovative insurance companies are bringing a fresh perspective to the small-group health insurance industry. These trailblazers focus their energy on crafting health plans designed for small businesses through level-funded health plans and an emphasis on increasing healthcare value.
Level-funded health plans are a cost-effective solution for many small businesses. Small businesses pay only for the actual healthcare their employees actually use, in addition to a few fixed administrative charges.
This approach can save small businesses from spending exorbitantly on high premiums for benefits that might remain unused. Furthermore, stop-loss insurance protects employers if claims costs go over a certain limit.
Another key focus for modern insurers is enhancing healthcare value through investments in accessibility, quality, and transparency, rather than sticking with outdated models that focus on acute condition care and sky-high reimbursement rates.
With this approach, modern insurance companies are spearheading the transition to a system that incentivizes quality care, cost savings, and healthier patient outcomes.
Sana
Sana is an excellent modern insurance company for small- to medium-sized businesses (SMBs) in Indiana with a workforce of 5 to 300 employees.
Sana tackles typical challenges small businesses face regarding health insurance through:
Comprehensive coverage: Extensive health plans incorporate medical, vision, and dental care.
Complimentary care: Convenient, modern providers are available for everything from telehealth to complex procedures — all at little or no cost to members.
Fair pricing: Self-funded plans mean you only pay for what you use — providing significantly lower premiums for healthy groups.
Flexible nationwide network: Employees can go to over 1.7 million provider locations, plus visit providers outside the network with no out-of-network fees.
Simplified benefits administration: Plan management is a breeze with functions like easy open enrollment, invoice reconciliation, employee addition and removal, and claims expenditure viewing.
Reliable support: A reliable, empowered support team is always on standby and reachable via phone, chat, or email, ensuring a swift response.
PHP Indiana
Physicians Health Plan of Northern Indiana (PHP) is a non-profit employee benefits company. As the third-largest insurance company in Indiana, they provide small employer groups with a variety of affordable benefit packages, including:
Medical
Dental
Vision
Life
And more
They also offer level-funded health plans, point-of-service (POS) benefit plans, and health maintenance organization (HMO) benefit plans.
Legacy carriers of small business health insurance in Indiana
Anthem and UnitedHealthcare are the top two legacy carriers in Indiana. These corporate giants extend their services to businesses of all sizes, making them a feasible alternative for SMBs in Indiana.
Anthem
Anthem provides HMO, POS, health-saving account (HSA)-compatible plans, and preferred provider organization (PPO) plans to meet different budgets and needs. They also feature one of the broadest provider networks in the nation, secure online tools, and valuable resources like wellness and virtual care programs.
UnitedHealthcare
Much like Anthem, UnitedHealthcare offers employers a vast provider network and resources like online tools, virtual care, and wellness programs. They also offer level-funded plans for small businesses.
Getting quotes for group medical insurance in Indiana
Employers can find group medical insurance quotes in Indiana through various platforms, such as:
Online quote comparison tools
A health insurance agent or broker
The SHOP marketplace
Alternatively, they can request a quote with Sana.
Group health insurance brokers in Indiana
Indiana-based small businesses can partner with a group health insurance agent for hands-on help dealing with the intricacies of small group health insurance.
Armed with comprehensive industry knowledge, an understanding of local and federal regulations, and an appreciation for the unique requirements of small businesses, these licensed experts can guide businesses in finding the most fitting and cost-efficient health insurance in Indiana. Ideally, the brokers will not only assist in finding the right coverage but also aid businesses in saving money via level-funded plans, fair pricing, and cost containment strategies.
Several Indiana broker finders are available to aid small businesses in finding the best agent, including the following:
Employers can also visit the Sana plans page to find more information about Sana Benefits.
Indiana small business health insurance FAQs
While Indiana law does not require small businesses to offer health insurance to their employees, you may see improvements in employee recruitment, retention, and satisfaction by offering health insurance. You should analyze the needs of your business to decide whether it is advantageous or not.
The ICHRA is a health benefits option that allows employers to determine a set amount to reimburse their employees for their individual health insurance premiums and other qualified health expenses. It represents a shift toward personalized, employee-centered benefits, giving employees more choices and employers more control over their healthcare budget.
In general, most small businesses can deduct their health insurance premium payments. However, they must meet certain conditions, and how they receive the deduction depends on their tax structure. It is best to get in touch with an accountant before attempting to write off health insurance costs.