Sana Blog
/
Healthcare trailblazers: Steelcase's culture of well-being
Healthcare trailblazers: Steelcase's culture of well-being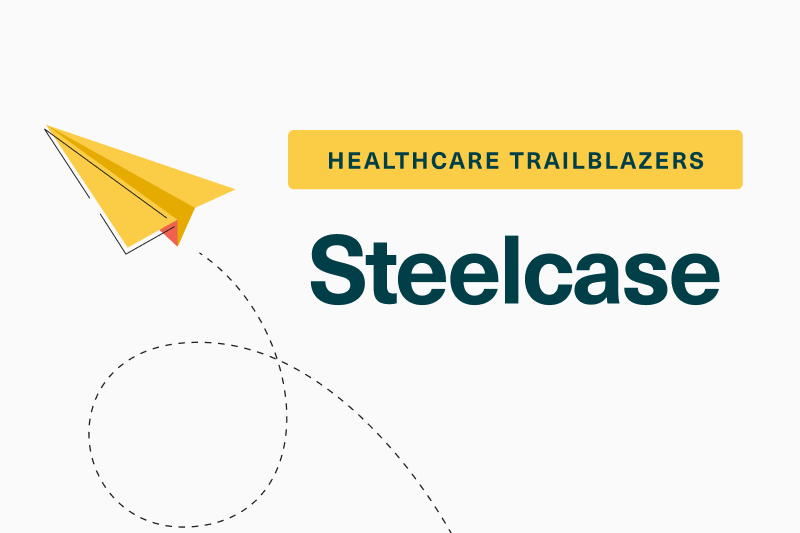 Healthcare in the U.S. is a broken industry in need of trailblazers.
The U.S. spends roughly double what comparable countries spend on healthcare — but ranks dead last among them in healthcare outcomes, equity, efficiency, and access.
With 50% of Americans getting health insurance through their employers, businesses bear the brunt of this value crisis. Now that healthcare is their second-largest expense, many businesses, large and small, are refusing to accept the exorbitant cost and poor quality of healthcare.
In this series, we highlight businesses that are challenging the status quo by embracing — and, in some cases, pioneering — modern healthcare models. These innovative approaches to healthcare provide increased value at fair prices. The result is better health outcomes and lower costs for employers and employees alike.
Case study: Steelcase
Case study: Steelcase
Steelcase, founded in 1912, is an office furniture design and manufacturing company that also offers a range of office-related architecture and technology products and services. Known as "The Office Environment Company," Steelcase's innovations throughout the decades have significantly impacted the look and feel of the modern workplace.
But it is not just a leader in the physical aspects of the workplace — it has also made a name for itself as a pioneer of workplace well-being. For Steelcase, the two are inextricably linked. The company approaches well-being in a two-pronged fashion — tangibly through physical office products and environments and intangibly through company culture. Both are crucial to facilitate holistic workplace wellness according to Steelcase.
On the tangible side, Steelcase designs workspaces that give employees what it calls a "palette of place, posture, and presence" — the opportunity to continually change up working conditions to accommodate different work modes. This means providing myriad physical workspaces, such as enclosed, distraction-free rooms, comfortable common areas, and bustling cafes. It means offering employees ergonomic ways to sit, stand, lounge, or walk on a treadmill as they work. And it means allowing workers to choose the level of presence (i.e., phone call vs. video call vs. in-person meeting) that best suits the task at hand. 
Driving Steelcase's design ethos is the pursuit of "workplace authenticity," or employees' ability to behave naturally and be themselves at work. Workplace authenticity is something the company strives to deliver to both its employees and its clients' employees via nurturing workplace designs.
Workplace authenticity also informs the company as it embeds well-being into work in intangible ways. Steelcase was ahead of its time in terms of offering unique wellness benefits. It offered mental health services and helped employees find quality daycare options in the 1970s, well before such perks were commonplace.
As early as 2013, an internal cross-functional group called the Wellbeing@Work Experience Team and IDEO, a world-renowned product design company, collaborated to conduct a series of well-being experiments — including stations where employees could prep a healthy dinner to eat at home instead of grabbing takeout, friendly step count competitions among coworkers, new channels for improved employee communication and engagement, and a lecture series on topics like personal wellness and eldercare.
The organization's commitment to fostering a workplace culture of well-being continues today. It has a well-being hub on-site where employees can make appointments with care providers from registered nurses to massage therapists. For the 15th year in a row, Steelcase earned a spot on Fortune's list of the World's Most Admired Companies in 2021, a designation which takes into account a company's ability to attract talent.
Steelcase is also calling on other organizations to follow suit. In April of 2020, very soon after the start of the pandemic, the company released a prescient guide called "Navigating What's Next: The Post-COVID Workplace," which implored all businesses to make the safety and well-being of employees top priority as they planned their eventual return to the office.
Steelcase knows that optimizing employee wellness can save significant sums on health insurance premiums, reduce employee absenteeism, and boost organizational performance. But the company makes clear via its consistent commitment to well-being that it's more than a surface-deep, money-saving tactic — rather, it underlies all of the organization's operations.
Small businesses, even though they do not have the distinct advantage of being an office design company, can glean important insights from Steelcase's approach. It is important to think about employee wellness in terms of tangible and intangible aspects of the work environment. Even for businesses that are remote-first, there are ways employers can optimize employees' physical work environments — such as home office stipends or coworking space memberships to give employees so-called palette of place and posture.
And the best thing small businesses can do to improve workplace culture and take care of their employees is offer top-notch employee health benefits. There are many modern health insurance companies, like Sana, whose health plans include a suite of cutting-edge wellness benefits. By choosing such a health plan, small business owners don't have to become experts on wellness benefits to offer employees free tools — such as virtual care, mental health services, virtual health coaching, fitness classes, and more — to proactively take care of their own well-being.