Sana Blog
/
Healthcare trailblazers: Walmart's innovative approach to self-insurance
Healthcare trailblazers: Walmart's innovative approach to self-insurance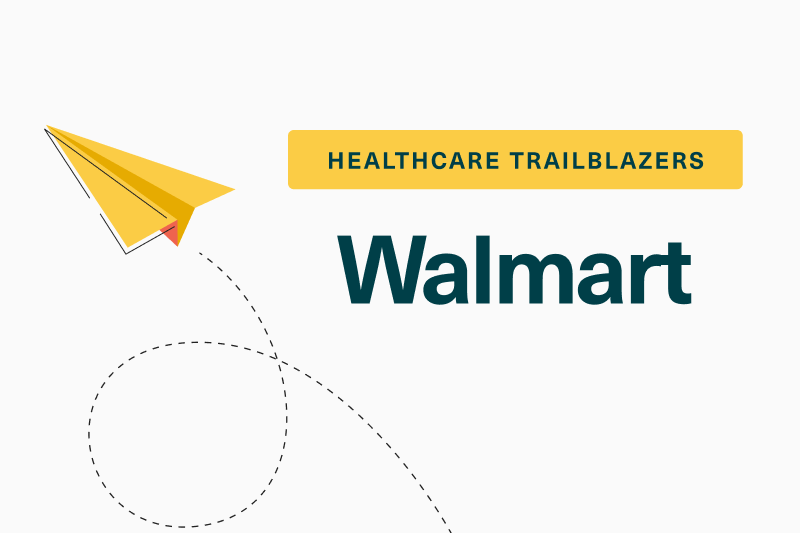 Healthcare in the U.S. is a broken industry in need of trailblazers.
The U.S. spends roughly double what comparable countries spend on healthcare — but ranks dead last among them in healthcare outcomes, equity, efficiency, and access.
With 50% of Americans getting health insurance through their employers, businesses bear the brunt of this value crisis. Now that healthcare is their second-largest expense, many businesses, large and small, are refusing to accept the exorbitant cost and poor quality of care.
In this series, we highlight businesses challenging the status quo by embracing — and, in some cases, pioneering — modern healthcare models. These innovative approaches to healthcare provide increased value at fair prices, and the result is better health outcomes and lower costs for employers and employees alike.
Case study: Walmart
Case study: Walmart
Walmart is the largest employer in the U.S., and its health plans cover over a million lives. With a history of taking big, innovative swings in both the retail and healthcare spaces, the company has gained a reputation for always staying ahead of the curve to maximize the value it can provide to its customers, employees, and community.
Walmart self-insures its employees, meaning that the retail giant assumes the entire financial risk of its workers' healthcare. But the company has tested and adopted a handful of strategies over the years to contain its costs while keeping the quality of care high.
Centers of Excellence program
In 2013, Walmart launched its Centers of Excellence (COE) program, covering the full cost of travel and treatment for employees managing complex medical conditions, such as cancer, organ transplants, and many common surgeries. But, to receive free care, the employees must agree to seek treatment at certain predetermined hospitals.
Walmart negotiates bundled payments with those hospitals and reimburses them directly for the care they provide. A bundled payment is a single payment that covers all of the services related to a single illness, injury, or condition — including all associated inpatient, outpatient, and rehabilitative services. This model encourages all providers to keep costs down by avoiding unnecessary services and coordinating the patient's end-to-end care. But this more scrupulous approach to managing complex medical conditions has more benefits than just cost containment. It also tends to result in:
Better health outcomes and a more streamlined experience for the patient, as reflected in the COE program's

95% satisfaction rate

among employees

Less time spent in the hospital and far lower rates of hospital readmission, which means reduced employee absenteeism
Building on the success of its COE program, Walmart rolled out a handful of experimental programs in select markets around the country in 2020:
Featured Providers program
Walmart announced the launch of its Featured Providers program in three markets: Northwest Arkansas, the Orlando-Tampa area, and the Dallas area. Employees who select this narrower network of providers (over the broader PPO network Walmart offers) can choose from a list of local doctors with a proven, data-based track record of providing high-quality care.
To determine which providers qualify for inclusion, Walmart partners with Embold Health, which synthesizes data from public and private insurance programs in order to produce quarterly reports on individual providers' performance. Walmart uses that information to curate its network of selected providers in primary care and seven other specialties — including cardiology, oncology, and obstetrics.
Personal Healthcare Assistant program
Walmart began testing its Personal Healthcare Assistant program in North Carolina and South Carolina. Employees can access this program via phone, web, or mobile app to receive assistance with a variety of healthcare logistics — including finding providers, managing appointments and billing, understanding diagnosis and treatment, and even finding transportation and child care for appointments.
Expanded virtual care
In Colorado, Minnesota and Wisconsin, the company expanded its virtual care program to include preventive health, chronic care management, urgent care, and behavioral health. This gives employees the option to consistently see the same virtual primary care physician, access to an online team that coordinates their specialty care, access to nutritional and diabetic counseling, and more. All virtual care visits are $4.
In 2021, Walmart expanded its virtual care program even further to include new offerings such as virtual physical therapy and gastrointestinal health counseling.
Just this year, Walmart partnered with Health at Scale, a machine learning platform that connects covered employees with the local in-network providers most likely to deliver the best health outcomes based on an employee's individual health needs and healthcare history. The platform uses AI to optimize the compatibility between provider and patient.
All of this goes to show that Walmart does not rest on its laurels when it comes to employee healthcare. It is always in search of the next healthcare innovation that could both save the company money and provide its employees with cost savings, greater healthcare accessibility, better health outcomes, or all of the above.
Of course, small- and medium-sized businesses (SMBs) do not have anywhere near the resources Walmart has, nor anywhere near the number of enrolled employees on their health plans. But that doesn't mean they can't take small, meaningful steps that mirror Walmart's moves in recent years.
"I think some employers are somewhat hesitant to take the lead on a change in healthcare… [but] if they see other employers — especially big-name employers — doing it, they might be willing to step forward and do something similar," said Steve Wojcik, VP for Public Policy at the National Business Group on Health.
So, what can SMBs do to improve the affordability, accessibility, and quality of their employee health plans?
They can partner with the right insurer. For instance, Sana's health plans are designed specifically to empower SMBs to offer their employees better, more affordable health plans. Sana members have access to several programs similar to those discussed above, such as $0: chronic condition management, behavioral health, virtual doctor's visits, virtual physical therapy, Centers of Excellence, second opinions on complex medical conditions, and more.
You don't have to be a retail giant to be a pioneer in the healthcare space. Get a quote.