Sana Blog
/
How Sana Saves Your Small Business Money
How Sana Saves Your Small Business Money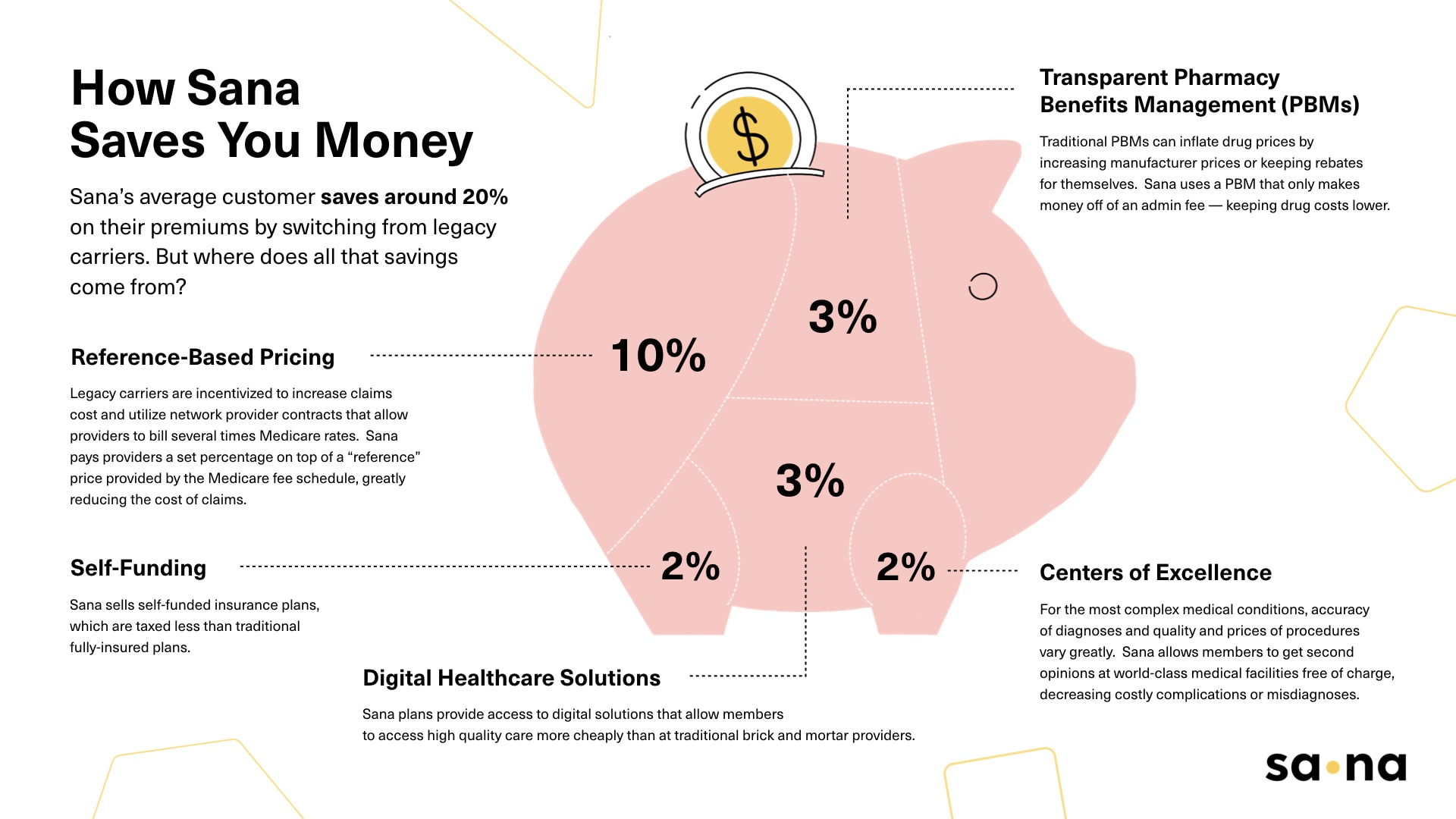 Patrick Bales joined Door.com as an Operations Manager before the company had switched to Sana. One of the first things he noticed was how much money the company was spending on health benefits.
"The challenges we had with our previous provider were high deductibles, high premiums," Patrick said. "When it came time to renewals, year-over-year rates were going up 40-45%."
When helping Door.com switch to Sana Benefits, Patrick appreciated that Sana would save Door.com money without sacrificing on quality.
"Sana immediately stood out to us due to its costs. And, they backed it up with incredible doctor availability and low deductibles."
Related video: See how Sana helped Door bring a more human touch to healthcare
With Sana Benefits, employers offer benefits packages with full medical, dental, vision and perks. And they do so for lower costs than they'd pay through a traditional health insurance carrier. In fact, Sana saves small businesses around 20% on their premiums by switching from legacy carriers. This works out to an average savings of around $1,500 per employee, per year.
"Due to the savings we've experienced with Sana, we were able to launch a 401(k) program for our employees for the first time," said Patrick. "It's an amazing blessing,"
But where does all that savings come from?
How Sana Saves You Money
Reference-Based Pricing (RBP)
With RBP, employers pay claims set by a well-established benchmark instead of a carrier-determined fee.
Employers' healthcare costs aren't subject to the whims of carrier markups. Instead, employers pay claims based on set benchmarks like Medicare reimbursement rates.
Related: Read more about reference-based pricing
Sana uses reference-based pricing in its health plans. We pay providers a set percentage in addition to the Medicare fee schedule as a benchmark. This pricing structure greatly reduces the cost of claims.
Traditional plans set pricing in their health plans more arbitrarily. Carriers use contracts with providers that allow those providers to bill several times Medicare rates. Additionally, carriers add in fees like:
Administrative fees for managing claims

Markups and premiums added onto claims prices

Pass-through fees for the federal and state taxes that apply to traditional fully insured plans
Self Funding
Sana offers self-funded health insurance, which can cost less than traditional fully-funded plans in two primary ways.
(What is self-funded insurance? It's a health plan sponsored by an employer rather than an insurance company. The employer pays health claims based on the healthcare that's used. Learn more about the model here.)
First, self-funded insurance plans don't have to pay certain federal and state taxes that apply to traditional plans. Of course, traditional carriers will pass costs for those taxes on to their members.
Second, Sana's self-funded model is also level funded. Level funding is a type of self insurance. With self-funded plans, employers pay for the health insurance they use. With level-funding, employers have a cap on costs. If claims are low, employers get money back. If claims are high, then the carrier's stop-loss insurance kicks in to cover costs. As a result, Sana members enjoy predictable costs and the potential for rebates if claims are low.
Related: Learn more about how level-funding saves you money.
Transparent Pharmacy Benefits Management (PBMs)
PBMs make the connection between health insurance carriers, pharmacies, and drug manufacturers. Traditionally, many PBMs have inflated drug prices by increasing a manufacturer's prices or by failing to pass rebates on to the end customer.
Sana only uses PBMs that make money off an administrative fee, without a sacrifice in quality. We partner with best-in-class PBMs like SmithRx, who shares a commitment to transparency and fair pricing. With PBMs like SmithRx, Sana members get access to 60,000+ retail pharmacies nationwide and access to mail-order Rx — without the markups.
Digital Healthcare Solutions
Sana plans provide access to digital solutions that allow members to access high-quality care for less than at traditional brick and mortar providers. How? Telehealth options that span the physical, mental, and emotional.
Sana members can get diagnosed for primary care services with PlushCare by phone, computer, or mobile app. Often, these services can avoid a costly — and unnecessary — trip to the ER. Two-thirds of emergency department visits are "avoidable", in fact, and the average cost of visits exceeds $2,000.
Sana members can also use the below virtual perks, most of which are free with standard Sana plans.
Centers of Excellence
For the most complex medical conditions, accuracy of diagnoses and prices of procedures vary greatly. It can feel nearly impossible to predict costs in these cases — just getting a diagnosis can involve many trips to various doctors and tests galore, and unfortunately misdiagnoses are all too common.
Sana partners with Edison Healthcare as part of the Sana Centers of Excellence (COE) benefit. This allows Sana members to get second opinions at world-class medical facilities free of charge. Edison Healthcare will even arrange and pay all necessary travel.
As a result, Sana members can decrease costly complications or misdiagnoses.
The COE benefit applies to Sana members facing one of the following procedures of conditions:
Spine surgery

Orthopedic surgery

Heart surgery

Valve replacement/surgery

Transplant surgery

Cancer diagnosis

Transplants

Stem cell therapy

Joint surgery

Other complex conditions
Visit Sana Benefits to get a quote and see how you can get lower cost health benefits that your employees will love.