Sana Blog
/
Promoting Mental Health Awareness Month in the workplace
Promoting Mental Health Awareness Month in the workplace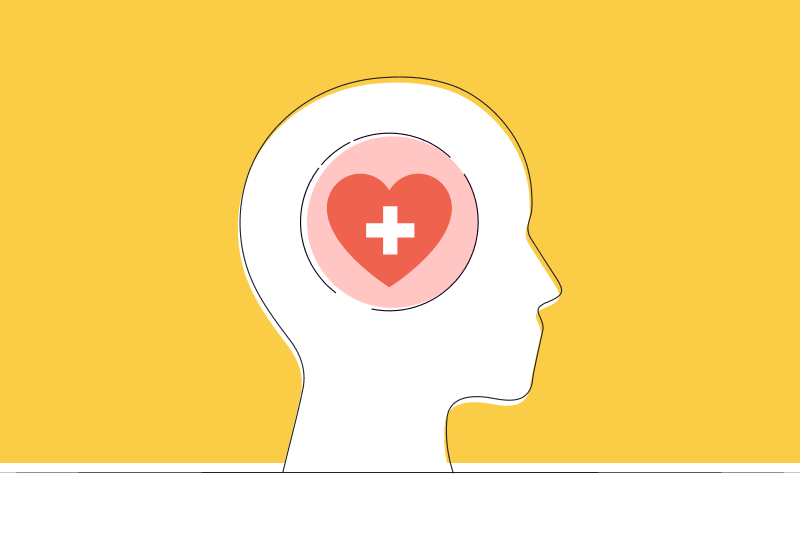 May is National Mental Health Awareness Month — which makes it the perfect time for employers to take stock of how they support employees' mental health.
We are in the midst of a mental health crisis in the U.S. The pandemic exacerbated the already high rates of trauma, depression, and anxiety amongst Americans. The rate of depression is more than three times what it was in 2019 before the pandemic hit.
Many U.S. employers have bolstered their mental health benefits accordingly. According to the Kaiser Family Foundation's 2021 Employer Health Benefits Survey, 39% of employers updated their health benefits packages during the pandemic to expand access to mental health care. The most common updates were:
Expanding the ways employees can access mental health services, i.e. through virtual appointments

Developing new resources, i.e. employee assistance programs
While companies report that employee enrollment in mental health resources has increased since the pandemic began, mental health resources remain underutilized. This is largely due to the stigma that surrounds seeking support for mental and behavioral health conditions. A 2019 poll found that:
About 50% of workers had qualms about discussing mental health issues at work.

More than one in three workers feared retribution or termination for seeking mental health care.
That's why it's not enough for employers to increase access to mental health resources — they also need to communicate to employees that using those resources is normal and encouraged. By taking this two-pronged approach, employers can be leaders in the fight against the country's mental health crisis.
Below are seven ways business owners can create a culture of mental health awareness in the workplace.
7 steps employers can take to promote mental health awareness in the workplace
7 Steps for Employers to Take
1. Make work flexible.
The more flexibility you give your employees to get their work done on their own terms, the more likely they are to be able to strike a work-life balance that keeps them mentally healthy.
Flexible work could look like:
Flexible work hours

Fully remote or hybrid in-person and remote work

Unlimited or generous PTO

A shortened work week

Paid mental health days
2. Make workloads manageable.
This entails:
Encouraging managers to involve their direct reports in decisions that affect their job stress

Hiring enough employees so that no one is spread too thin

Encouraging employees to take mental health breaks and use their vacation time

Encouraging managers to lead by example by refusing overwork and preempting burnout
Realistic workloads lead to lower stress levels and having enough time and bandwidth to take care of mental health.
3. Hold mental health training sessions.
Mental health training needs to occur at multiple levels of any organization.
Examples include:
Training employees to recognize the signs and symptoms of mental health issues so they know when to seek professional help

Training managers to recognize the signs of mental health issues in others so they know when to encourage professional help

Workshops on stress management techniques, mindfulness, and meditation

Info sessions on how to utilize the company's mental health benefits

Trainings on topics that contribute to a mentally healthier workplace for all — such as those about workplace harassment, diversity and inclusion, and using inclusive language
4. Offer modern health insurance that covers mental health visits.
By modern health insurance, we mean coverage that takes today's world — and work landscape —  into account. In our opinion, health insurance without robust mental health services and next-gen virtual offerings will no longer serve your employees well. 
Here are some things you can look for in health plans to make sure they prioritize mental health care:
No or low out-of-pocket costs for mental health and substance abuse services

No or low out-of-pocket costs for common mental health medications, such as those for depression and anxiety

An extensive list of in-network mental health providers

In-network mental health providers who reflect the diversity of your workforce and speak your employees' native languages

Good coverage for out-of-network mental health providers

Low-cost or $0 access to virtual mental health apps
5. Offer an employee assistance program (EAP).
An EAP is a work-based intervention program designed to help employees resolve personal problems such as:
Substance abuse/misuse

Legal issues

Financial difficulties

Child or elder care challenges

Relationship challenges

Traumatic events
EAPs offer no-cost assessments, short-term counseling, referrals, and follow-ups to employees facing such challenges. To offer an EAP to employees, you can partner with a third-party EAP vendor or seek an insurer whose plans include an EAP.
6. Offer a wellness program.
While EAPs are designed to assist employees with existing problems, wellness programs can keep employees mentally and physically healthy to prevent such issues from developing in the first place. 
Wellness programs can include things like discounted or no-cost:
Gym memberships and fitness classes

Health and nutrition coaching

Quit-smoking programs

Health screenings and risk assessments

Chronic condition management programs

Meditation and stress management classes

Immunizations
When utilized widely, wellness programs improve your employees' quality of life and help keep your health insurance claims costs down.
7. Launch a mental health communication campaign.
There's no such thing as over-communication when it comes to mental health awareness.
Talk about it.

Send emails about it.

Hold meetings about it.

Post on social media about it.

Hand out fliers about it.

Invite guest speakers to talk about it.

Develop a mental health website that clarifies your company's mental health services and simplifies access to them.

Make sure mental health materials and workshops are available in all your employees' native languages.

Ask your employees what they need to feel that their mental health is adequately supported.
The more you talk about mental health in the workplace, the weaker the stigma surrounding mental illness becomes.