Sana Blog
/
Top 7 employee benefits small businesses should offer in 2023
Top 7 employee benefits small businesses should offer in 2023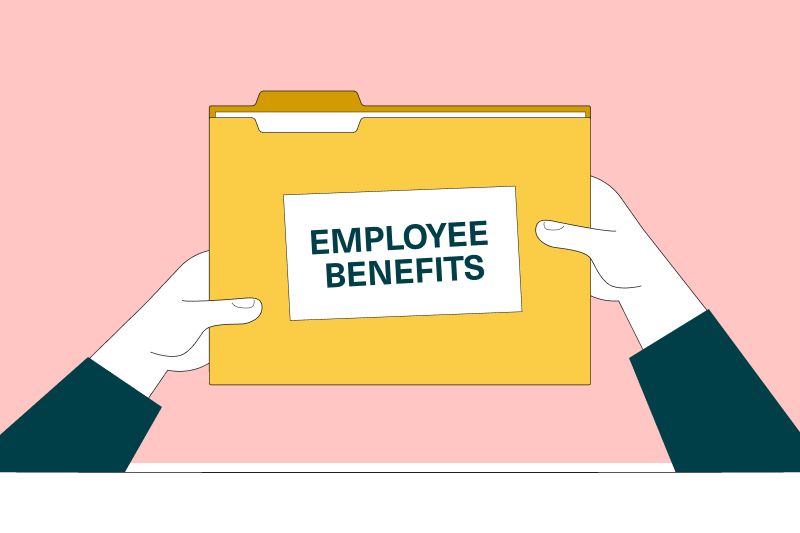 Employee benefits: Definition
Employee benefits are all forms of non-wage compensation employees receive on top of their regular pay.
Employee benefits examples include everything from health insurance and life insurance, to more informal perks — such as free snacks in the office and the ability to work from home.
Building a small business benefits package
Building an attractive small business benefits package is a great way for smaller firms to compete with larger ones for talent. Excellent benefits packages make employees feel holistically supported and cared for, both at and outside work. This usually entails a healthy combination of more costly benefits and lower-cost perks.
Two benefits could come at wildly different costs to the employer, yet both could significantly improve employees' quality of life. Take medical insurance and no-meeting days, for instance. While one is a large investment and one is free, they could both attract potential employees to your business and incentivize existing ones to stay. They could even work in tandem to lower your employees' stress and boost their well-being, as routine health and wellness appointments can be more easily scheduled on no-meeting days.
Consider the following when deciding what benefits to offer your employees:
Tailor benefits to your employees' needs.
For one, it is important to remember that there is no one-size-fits-all approach to building a great small business benefits package, as every employee population has unique needs. The same benefit could be highly valued and utilized at one business and go virtually untouched at another.
For example, a small business whose employees all have young children may want to invest heavily in child care benefits. However, offering robust child care benefits to a group of employees whose children are all grown may be a waste of valuable resources.
That's why it is always best practice to ask or anonymously survey employees about which benefits they want most. As a small business owner, you will get the most value out of providing benefits that genuinely make your employees' lives better.
Doing so can boost employee engagement, retention, and morale. On the other hand, failing to do so might cause employees to seek employment elsewhere.
Stay on top of benefits trends.
Secondly, staying on top of trending topics in the employee benefits space is a good idea as you build or enhance your employee benefits program. While not every trendy benefit will pertain to your particular employee population, you should consider implementing the ones that do.
Why? Because your best employees can always leave for a job with better, more modern benefits.
A great example is the flexible working arrangement. This benefit gained popularity when the pandemic forced workers out of the office — and many realized they preferred to work from home. Studies show that remote and hybrid jobs receive 7x more applicants than in-person ones.
If you own a small business in an industry where hybrid/remote work is feasible, failing to keep up with this benefits trend could seriously hurt your talent pool — and your bottom line.
Top 7 employee benefits trends in 2023
According to Mercer, 70% of large and 53% of small employers plan to enhance their benefits in 2023. Many will add some or all of the following trending benefits.
1. Mental health coverage
According to our 2022 SMB Employer Benefits Survey, the number of small and midsize businesses offering mental health coverage is up 39% from last year. That number is expected to grow in 2023: 67% of employers plan to enhance their employee assistance programs next year, which could mean covering more therapy sessions or onboarding additional virtual mental healthcare providers.
2. Behavioral health programs
Though closely connected to mental health, which has to do with a person's psychological state, behavioral health refers to a person's actions and reactions — and therefore encompasses both the mental and the physical. Employers understand that attending to employees' behavioral health is an important complement to caring for their mental well-being — many employers plan to change health plan design to make behavioral healthcare more affordable, add behavioral health training for managers and employees, and/or conduct behavioral health anti-stigma communication campaigns in 2023.
3. Inclusive family-building benefits
According to Mercer, "Inclusive family-building support is quickly becoming the norm." Examples include resources and coverage related to pregnancy, lactation, preconception family planning, pregnancy loss, adoption, surrogacy, IVF, fertility treatments, prenatal nutrition, return-to-work planning, and more. It is essential to acknowledge that employees have diverse needs as they plan their families, and build a benefits package that supports all journeys to parenthood.
4. Child care assistance
Child care assistance can take multiple forms, such as on-site and backup child care services, tutoring services, college coaching, and subsidized child care through employer contributions or pre-tax deductions. Employer-sponsored child care assistance is rising as the new year approaches — 22% of large employers will provide backup child care services by 2023.
5. Virtual care
Studies show that patients would rather access certain types of care virtually than in-person — for instance, primary care and mental healthcare. It is important to give employees robust virtual care options for a handful of reasons:
Employees are less likely to delay or forgo care if they can access it conveniently.
Virtual care tends to be cheaper, saving you and your employees money.
Virtual care is more accessible for patients with disabilities and those who live in provider deserts.
Many employers plan to add virtual behavioral healthcare, virtual specialty care, and/or virtual primary care in 2023 to supplement their current telemedicine offerings.
6. Work flexibility
Employees want autonomy in 2023. According to McKinsey, "A flexible working arrangement is a top three motivator for finding a new job." As much as possible, allow employees to decide when, how, and where they work. If hybrid/remote work is not feasible for your business, consider giving employees more autonomy over their hours, increasing paid time off, or relaxing the office dress code.
7. Holistic leave policy
In 2023, there will be a widespread effort among employers to make parental leave policies more inclusive. This means giving both parents — including adoptive and foster parents — generous paid leave. Many employers are also adding additional paid leave options, such as caregiver and family leave, that allow employees to take time off to attend to other family situations.
If you want to offer high-quality small business health insurance that includes many of these benefits at no extra cost, consider Sana Benefits. Our plans give your employees traditional medical coverage, plus $0 access to mental and behavioral healthcare, inclusive family-building benefits, and a suite of virtual care providers. Get a quote.