Celebrating 6 Years of Sana!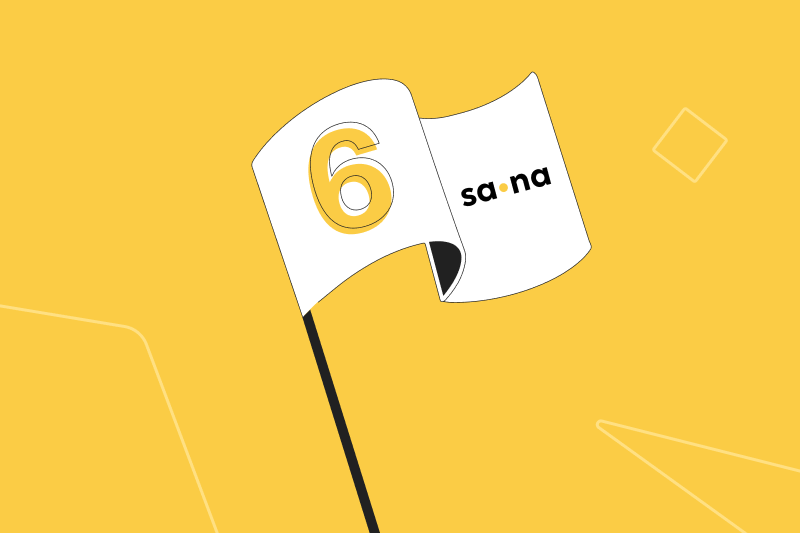 Six years ago our founders embarked on a mission to revolutionize healthcare, making it more understandable, accessible, and affordable for everyone. And we have come a long way since then! As we celebrate our momentous 6-year anniversary, we are more determined than ever to evolve our health plans and bring affordable, quality healthcare to small businesses across the US.
To mark this milestone, we are celebrating some exciting announcements that will change the healthcare game forever.
The New Sana Care
At Sana, one of our core values is "Build the Future." That means that we focus on creating the best possible healthcare solutions from the ground up, not just tinkering with existing ones. And that's exactly what we've accomplished with our latest offering. About a month ago, we rolled out a care service that allows Sana members to understand what care they need and which high quality providers they should get it from, all with just a few clicks.
Sana Care is a free, all-inclusive medical practice that will be seamlessly integrated into every Sana Benefits plan. We diagnose, treat, and manage concerns completely virtually. By the end of 2024 every Sana plan will include the support of a concierge medical team that is at the member's side every step of the care journey to ensure they're never navigating benefits alone and always getting the care they need when they need it. Our team of doctors, care navigators, and care managers, will work to diagnose, treat, and coordinate the best personalized care – no appointments necessary. 
We built Sana Care because as a team of industry professionals, we knew there was a smarter way to make healthcare truly accessible. Our goals for Sana Care are to give you:
Convenient, accessible care: Members get care from their personal team of experts without having to wait weeks for the next available appointment or hours at Urgent Care.
Patient-centered care: Members will have a team of healthcare professionals who get to know them and their health over time.
A place you can always find the care you need: We act as a starting point for all member's healthcare needs.
Healthcare that's so easy to use you never hesitate: Navigating today's labyrinthine healthcare system is not a member's job, it's ours.
Sana Care was rolled out in select Texas metro areas earlier this Summer, and members are loving it. Because our care model project manages health conditions over time by a consistent team, we're finding that 80-90% of all primary care issues can be diagnosed and treated by our team entirely online, without an in-person visit. We can't wait until this offering is available to every adult on a Sana plan. The future of healthcare is here, and we are thrilled to be at the forefront of this revolution.
A Growing Network of Quality Providers
Sana's rapidly growing network now boasts over 1.7 million provider locations, making it easy for members to find care in-network, at any time. Through our recent partnership with Prime Health Network, one of the largest PPO networks in the country, we increased our number of contracted provider locations by over 40%, giving our members access to provider locations through both Prime and HealthSmart networks. Members also always have access to our $0 Care Partners such as Ginger for virtual mental health, Sword for virtual physical therapy, and Blueberry for virtual pediatric care. 

What's more, our commitment to providing comprehensive access to quality care extends beyond our in-network providers. Sana's openness to offer fair reimbursement rates to out-of-network providers without charging members any out-of-network fees continues to be a win-win. In fact, 87% of out-of-network providers agree to take Sana and can bill us directly. We also have a number of new Flex Care Options.
Maximizing Care Partners
As part of our Sana network we have an ecosystem of virtual $0 provider offerings that range in services from mental health services, to physical therapy, to children and family care. These provider offerings – formerly known as our "Sana Care" ecosystem – have been rebranded as Care Partners to better reflect their place in our members' many healthcare options. These providers are true partners in making sure all of our members' health concerns are heard and treated.
We work directly with these Care Partners to ensure members have a great experience, including: easy access, lower cost, better outcomes, and friendly, proactive outreach. These partnerships are critical in our mission of making quality healthcare accessible, affordable, and understandable for all. 

So here's to six years of relentless dedication to transforming healthcare and making it more understandable, accessible, and affordable for everyone. We can't wait to see what the future holds as we continue to innovate. Cheers to the next six!