Sana Blog
/
What can small business owners do for health insurance?
What can small business owners do for health insurance?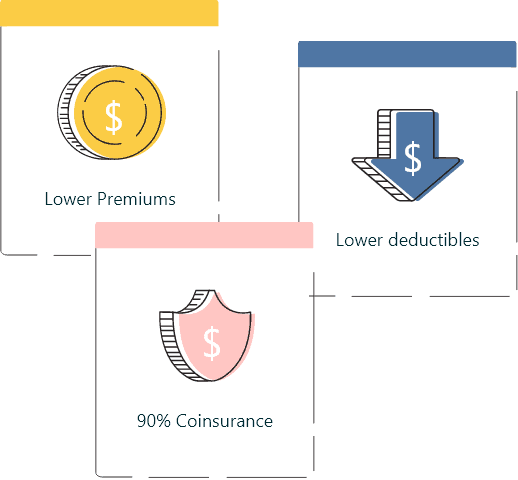 Last updated on February 21, 2023
Small businesses are the backbone of the U.S. economy — 99.9% of U.S. businesses are small businesses. And almost half (46.4%) of all U.S. employees are employed by one. This means that the responsibility of providing affordable health insurance to a whopping 61.7 million American workers falls to small business owners.
Chances are, you are a small business leader weighing the pros and cons of offering employee health insurance and trying to determine what type of group health plan to offer. There are lots of things you can do for health insurance:
You can use a broker or source health insurance plans yourself.

You can offer a fully-funded plan or a level-funded plan.

You can obtain health insurance by joining a professional employer organization (PEO).

You can use the

Small Business Health Options Program (SHOP)

to shop for plans.
Keep reading to learn more about what you can do for small business health insurance and why it's so important to offer it to employees.
What is health insurance?
According to healthcare.gov, health insurance is "a contract that requires your health insurer to pay some or all of your healthcare costs in exchange for a premium." Health insurance can be purchased as an individual or as a group.
Healthcare.gov defines group health insurance as "a health plan offered by an employer or employee organization that provides health coverage to employees and their families."
According to the Kaiser Family Foundation (KFF), the smallest businesses are the least likely to offer group health insurance. In 2022, the percentages of businesses offering group health insurance were as follows:
39% of businesses with 3-9 employees

58% of businesses with 10-24 employees

73% of businesses with 25-49 employees

91% of businesses with 50-199 employees
Who are the top providers for small business health insurance?
The health insurance provider you choose will depend on what type of health plan you decide to offer.
Below, we explain the differences between fully-funded health plans and self- or level-funded health plans.
The top providers of fully-funded plans are the five legacy carriers known as the BUCAHs: Blue Cross Blue Shield (BCBS), United Healthcare, Cigna, Aetna, and Humana.
Some legacy carriers also offer level-funded plans, but there are modern health insurance companies such as Sana and Oscar that are more tech-enabled and specialize in level-funded offerings for small businesses.
Small business owners may also choose to offer health insurance through a professional employer organization (PEO), which acts as the official employer of record for multiple small businesses. PEOs allow small businesses to outsource their HR functions and can give them access to lower health insurance rates than they'd be able to secure on their own. The top PEOs are Paychex, Justworks, TriNet, ADP TotalSource, and Insperity.
How to reduce your health insurance costs
There's no getting around the fact that healthcare, in general, is expensive. Additionally, healthcare costs go up every year — they are likely to rise by 6.5% in 2023.
But, there are ways to reduce your health insurance costs while still providing great benefits to your employees. While traditional, fully-funded plans are the most common (think the big guys, like Blue Cross Blue Shield, Aetna, Humana, United, etc.), their cost and unpredictability drive many small businesses to look elsewhere. And where there is demand, a solution is sure to follow.
Self-funded plans are an alternative to traditional plans and are attracting small businesses across the country. It's essential to understand the difference between a fully-funded health plan vs. a self-funded health plan.
The expense of fully-funded plans
A fully-funded health plan is sponsored by the insurance carrier rather than the employer. The carrier assumes all risk and holds the policy. Your company pays a fixed monthly premium for the carrier to pay your employees' claims and manage/administer the plan for you. No matter how many claims your employees make or how expensive those claims are, the carrier, not your company, is on the hook for paying them (or declining them).
While a fully-funded plan is predictable from month to month, it is highly unpredictable from year to year. You may know precisely what you will pay during an annual term, but there is no way to know what you will pay the following year. If your company's overall healthcare claims exceed what your carrier anticipated with their premium fee calculation, you can expect your rates will increase the next year.
The cost savings of self-funded plans
A self-funded health plan is sponsored by the employer instead of the insurance carrier. That means your company takes on all of the risk and pays your employees' claims as they come in. Your company will also be responsible for managing and administering the plan.
This may seem overwhelming, but there are significant cost advantages with a self-funded health plan. First, by eliminating the carrier, you avoid markup fees and get some tax advantages. You are also paying only for the healthcare that employees use. You pay less when employee claims are low and more when they are high. A traditional carrier works like your auto insurance: you pay a fixed premium whether there were claims or not.
For even more protection against high claims costs, there is a type of self-funded health plan called a level-funded health plan. A level-funded plan includes stop-loss insurance to protect you from "catastrophic" claims that could overwhelm your budget. Stop-loss insurance covers the overage above a set limit (a cap) you would be required to pay. If claims are higher than your cap, the stop-loss insurance kicks in, and if claims are low, your company receives a rebate to cover the difference. You'll never see a rebate from a traditional, fully-funded plan.
Another benefit of some level-funded health plans is that your employees will not be required to choose "in-network" providers, no matter what type of plan they choose. For instance, employees who want the least expensive plan with high deductibles do not have to sacrifice the ability to choose their own doctors and specialists. Giving your employees this flexibility is a great way to sweeten the benefits package that businesses with traditional health insurance can't do.
Do small businesses really need to offer health insurance?
The Affordable Care Act stipulates that small businesses with fewer than 50 employees are not required to offer health insurance benefits to their employees or pay a no-coverage penalty to the IRS. That doesn't mean they shouldn't provide health insurance benefits.
No matter the size of the employer, health insurance benefits are a big deal to employees. A 2020 survey of 2,000 people found that 84% put health insurance at the top of their most desired benefit list, and the Society of Human Resource Management (SHRM) reported that 92% of employees say benefits are important to their overall job satisfaction.
These numbers prove that benefits are a major contributor to talent acquisition and retention. Happy, healthy, cared-for employees are more loyal, productive, and complimentary of your business. Yes, health insurance plans can be costly, but with so many small businesses (your competition) offering health insurance benefits, can you afford not to? Think of health insurance benefits less as a cost and more as an investment, one that will result in higher-quality employees.
The best time to offer health insurance to your employees
If you are a startup or a small business without health insurance benefits, now is the time to find a plan if you have the budget. The longer you wait, the greater the chance you will lose good talent. To keep morale high and build your brand reputation, health insurance benefits have to be a priority.
Offering health benefits may depend on the size of your company. If you only have a handful of employees, you may not be ready to jump in just yet, preferring to grow a bit first. Just remember that benefits have become an expectation, even for employees at the smallest companies. Some companies view their plan as another "hire," allocating part of a budget they would spend on a new employee for a health insurance plan to cover all employees. Startups often build in the cost of a benefits package into their financial plan they fund from investors.
Your employees have different healthcare needs and budgets, so offering various plan options is the best way to ensure those who want to participate can find a plan that works for them.
Once you choose a health insurer and plan options, you will be able to offer health insurance to your employees as soon as the provider gives you the green light. Open enrollment is the period of time your employees will have to sign up, and it is set by the insurer. Not all employees have to sign up, as some may be covered already by a spouse's or parent's plan, or choose to seek their own health insurance.
When the open enrollment is over, employees who didn't participate cannot sign up until the next open enrollment period, typically a year later. There are exceptions, such as if an employee has a qualifying life event (QLE) that includes losing their current health plan coverage, getting married or divorced, having a baby or adopting a child, or changing their residence. New hires can sign up at the time of their hire, despite open enrollment dates.
Healthcare coverage is exciting, so market it to your employees in creative ways across multiple channels. Make sure you allow time for Q&As. Your health insurer should be able to answer any questions you can't answer.
Sana reduces healthcare costs for small business owners and makes it easy for small businesses with lean (or nonexistent) HR departments to offer health insurance for the first time. Get a quote today.
Frequently asked questions about small business health insurance
For most businesses, employer-sponsored health insurance is the second largest expense after payroll. When setting your health insurance budget, choose a monthly amount you can sustain, keeping in mind that employers are expected to pay at least 50% of employees' premiums (though often pay more). The more of the premium you ask employees to cover, the less likely they are to participate in the group health plan — and most states require 70% employee participation in order for employers to be able to offer coverage.
Choosing a bundled vision and dental package — as opposed to buying two individual plans — can save you money, simplify the shopping process, and offer the convenience of just one monthly bill. However, buying separate vision and dental plans often allows for greater customization.
A licensed agent can help you choose, buy, and enroll in a health insurance plan that suits your needs. Agents usually work for and represent a single health insurance company, while brokers represent the consumer and may sell plans from multiple health insurance companies.
A provider network is the list of medical providers, facilities, and suppliers a health insurer or health plan has contracted with to provide its plan members with healthcare at a negotiated price.
Small business health insurance guide infographic