Sana Blog
/
Health insurance 101: In-network vs. out-of-network
Health insurance 101: In-network vs. out-of-network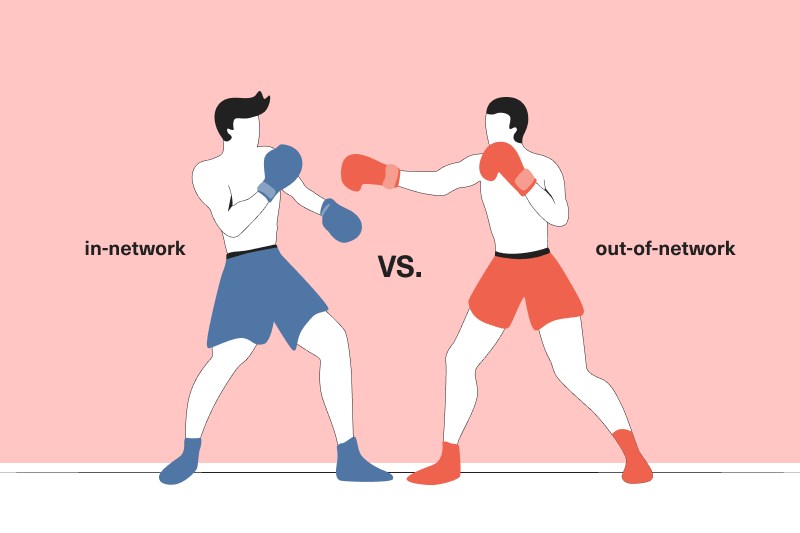 If you're a small business owner shopping for employee health insurance plans, it's important to understand the ins and outs of provider networks… literally! This post discusses what in-network vs. out-of-network means and how to think about provider networks when shopping for group health insurance plans. 
What is a provider network?
What is a provider network?
A provider network is the list of medical providers, facilities, and suppliers a health insurer or health plan has contracted with to provide its plan members with healthcare at a negotiated price. Provider networks are sometimes also called health insurance provider networks or health insurance networks.
Provider networks can include primary care doctors, specialty physicians, hospitals, surgery centers, urgent care clinics, labs, pharmacies, medical equipment companies, and more. These various healthcare entities agree to provide discounted services to plan members in exchange for the health plan sending a higher volume of customers their way.
Some health plans have extensive provider networks, while others' networks are more narrow. The more providers and facilities a health plan has contracts with, the more affordable choices its plan members have when seeking care.
As a health plan member, you have to distinguish between in-network vs. out-of-network providers.
What does in-network mean? 
What does in-network mean? 
In-network providers have a negotiated price for services set with your health plan, and your insurer will pay its responsibility according to the plan.
In-network providers have to bill your health plan directly, which means you will only owe your pre-determined copay or deductible at the time of care. Your insurance plan will collect any coinsurance, or the percentage of the bill that you are responsible for paying, from you later.
What does out-of-network mean?
What does out-of-network mean?
Out-of-network providers do not have a negotiated price for services set with your health plan, and they may or may not be paid for by your plan.
Out-of-network providers can require you to pay your entire bill upfront instead of submitting an insurance claim for you — in which case you would be responsible for submitting a claim to your insurer for reimbursement. They can also balance-bill you, meaning that they can ask you to pay for any portion of the bill that your insurance plan won't cover.
Insurance providers should have online search functions — such as a provider directory or a find-a-doctor tool — that make it easy and convenient for members to determine which doctors and facilities are in-network. By looking up providers ahead of time and ensuring that they are in-network, you can avoid receiving unexpectedly high bills for your care.
How do health plan types relate to provider networks?
How do health plan types relate to provider networks?
Some plan types tend to have larger provider networks than others, and different plan types approach the coverage of out-of-network care differently. Below are overviews of the most common plan designs and their policies regarding out-of-network care coverage:
HMO
HMOs, or health maintenance organizations, have narrow provider networks, and they don't cover out-of-network care except in cases of emergency. This plan type requires referrals from an in-network primary care physician for any type of specialty care from in-network providers. Because of these limitations, HMOs tend to be the least expensive plan type.
EPO
EPOs, or exclusive provider organizations, have larger provider networks than HMOs, so they are slightly less limiting. However, like HMOs, they don't cover out-of-network care unless it's an emergency. Referrals for specialty care are required in some cases.
PPO
PPOs, or preferred provider organizations, allow members to seek out-of-network care and don't require referrals. PPOs tend to cost more because they are the least restrictive plan type. Note: Members are commonly required to pay considerably higher coinsurances and/or copays for out-of-network providers than in-network providers. Plus, maximum allowable out-of-pocket costs are usually higher for out-of-network care.
POS
POS plans, or point-of-service plans, combine aspects of both HMO and PPO plans. They do require referrals from a primary care physician, but they allow out-of-network care for an additional cost.
It's important to understand the differences between plan types as you shop for group health insurance for your employees. Plan costs tend to increase as plan flexibility increases, so you'll need to do your research and strike the balance that best suits your business' needs.
And don't forget to read the fine print when plan shopping — because some carriers offer plan designs with unique restrictions. For example, UnitedHealthcare sells some plans that have provider networks with various tiers, and members have to pay a higher copay (and in some cases a higher coinsurance percentage) when they don't choose to use Tier 1 providers. And some Blue Cross Blue Shield plans, for instance, give members a choice between three different networks upon enrollment.
What is an all-access plan?
What is an all-access plan?
There is another type of plan called an all-access plan. All-access plans, such as the ones we offer at Sana, are not bound by a network at all. Members can choose to see their favorite providers at their preferred facilities without worrying about out-of-network fees. All-access plan administrators reach out to any doctor/facility their members wish to use and invite those providers to contract with them. On the rare occasion that a provider refuses to work directly with the insurer, the member is only responsible for their normal cost sharing amount, and the insurer reimburses them for any additional out-of-pocket expenses. 
Sana's all access plans are called PPO Plus plans. This is because — by allowing members to go out-of-network without charging them more for it — they offer even more flexibility than a PPO plan.
All-access plans are a great way to get around the confusion and restriction associated with navigating in-network vs. out-of-network care. Plus, your employees will love not having to worry about whether or not their current doctors and specialists will be in-network on their new health plan.