Sana Blog
/
Healthcare trailblazers: Maven's mission-driven benefits strategy
Healthcare trailblazers: Maven's mission-driven benefits strategy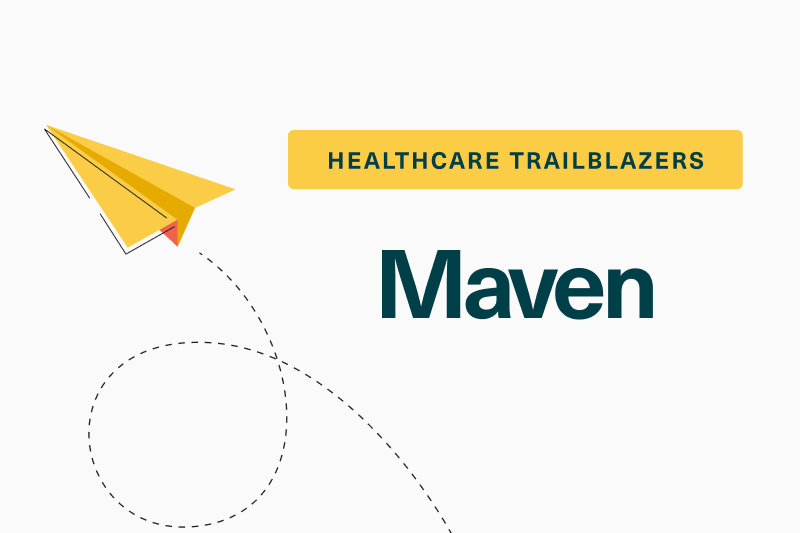 Healthcare in the U.S. is a broken industry in need of trailblazers.
The U.S. spends roughly double what comparable countries spend on healthcare — but ranks dead last among them in healthcare outcomes, equity, efficiency, and access.
With 50% of Americans getting health insurance through their employers, businesses bear the brunt of this value crisis. Now that healthcare is their second-largest expense, many businesses, large and small, are refusing to accept the exorbitant cost and poor quality of healthcare.
In this series, we highlight businesses that are challenging the status quo by embracing — and, in some cases, pioneering — modern healthcare models. These innovative approaches to healthcare provide increased value at fair prices. The result is better health outcomes and lower costs for employers and employees alike.
Case study: Maven
Founded in 2014, Maven Clinic is a virtual clinic delivering next-gen healthcare to women and families. Maven offers holistic care related to all aspects of diverse paths to parenthood — including family planning, fertility, adoption, surrogacy, pregnancy, child care, parenting, and pediatrics.
Employers and health plans partner with Maven to reduce healthcare costs and drive better outcomes for those they cover. Individuals and families can also sign up for Maven if they want additional support throughout the family-building journey.
Maven believes that better health outcomes for women and families create a better world for everyone, and that mission is at the core of everything they do.

Maven was rated #1 in Fortune Best Workplaces in Healthcare 2022 (small and medium-sized business category) — and many employees cite the company's mission as a major reason it is such a great place to work. The word cloud above, with "mission" at its center, was drawn from Maven employees' comments on the Great Place to Work Trust Index™ survey.
Maven puts their mission into practice through their own employee benefits strategy and company culture. Because Maven believes that "representation matters" and that "creating an equitable health system starts with bringing diverse experiences, backgrounds, and perspectives together," the company practices inclusive hiring and offers equitable employee benefits.
Maven's robust employee benefits program includes:
Medical, dental, and vision insurance with 100% covered options

Free One Medical membership, which allows employees to schedule same- and next-day primary care appointments and access virtual primary care 24/7

Free access to Maven (with additional credits for friends and family), which offers employees 24/7 virtual access to maternity and postpartum resources — such as prenatal nutritionists, midwives, surrogacy and adoption support, mental health care, loss support, lactation counseling, pediatricians, back-to-work support, and more
In addition to health benefits, Maven's benefits package offers the following:
Unlimited paid time off

14 weeks fully paid parental leave and return-to-work plan

Equity in the company

401k match

Paid sabbatical after 5 years of employment

Annual stipend for career development

Team bonding events

Weekly stipend for a free lunch

Open Q&A panels with the executive team

Flexible hybrid work model
Maven makes benefits decisions with their mission in mind. For instance, the hybrid work model they rolled out in 2021 was designed to give so-called "Mavens" as much autonomy as possible over where and how they work — because the needs of diverse employees and their families are different.
Maven is an excellent case study for practicing what you preach as a business. In other words, your business' mission must align with the way you treat/care for your employees. To tout the importance of diversity, inclusion, and work-life balance without using them as the foundation for your benefits strategy hurts your credibility, workplace culture, and, ultimately, your bottom line.
Sana Benefits x Maven Clinic
If you are a small business owner looking to provide a robust and inclusive health benefits package to your employees, get a quote from Sana. Our small business health plans:
Include $0 access to Maven

and a suite of other healthcare and wellness providers through our

Sana Care ecosystem

Are all-access, meaning we consider all providers and facilities in-network and never charge out-of-network fees

Include free mental health care

Include free virtual doctors' appointments
Giving your employees the power to choose — what providers they see and how they see them — and setting them up with inclusive $0 healthcare options like Maven are some of the best ways to demonstrate that you respect their diverse needs and lifestyles.