Sana Blog
/
Small businesses with benefits: Blackhawk Digital Marketing
Small businesses with benefits: Blackhawk Digital Marketing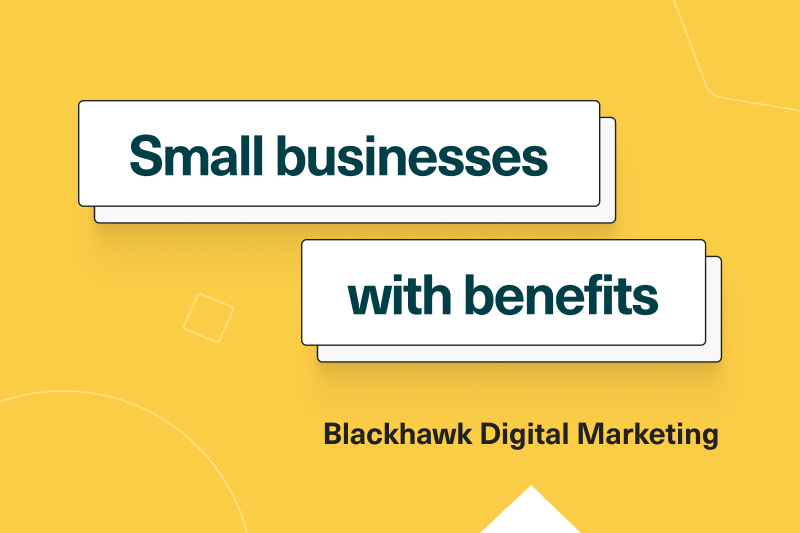 In this blog series, we ask Sana customers about their trials and triumphs as small business leaders.
These conversations offer a glimpse into how small businesses think about employee benefits and navigate HR challenges in the post-COVID era.

We interviewed Jonathan Windham, Founder and CEO of Blackhawk Digital Marketing, a digital marketing agency in Austin, TX.
The Blackhawk team tripled in size during the pandemic and now has about 50 employees. As they've rapidly grown their business, Windham and his wife Sarah have always kept their mission top of mind: They strive to make Blackhawk the #1 place for digital marketers to build their careers.
How do they do it? By putting people first, always.
Read on to learn how Blackhawk's dynamic company culture and fantastic employee retention are fueled by their employee-centric approach to benefits and career development.
Employee benefits program guided by Maslow's Hierarchy of Needs
Maslow's Hierarchy of Needs is a seminal psychological concept stating that our actions as humans are motivated by the need to fulfill certain basic needs before moving on to more advanced needs. Maslow believed that humans possess an innate desire to be self-actualized, or the best that we can be — but that more fundamental needs such as food, shelter, and a sense of safety must be met first.
Windham and his wife set out to design an employee benefits program that supports every tier of Maslow's pyramid. This has meant adopting a broad definition of 'benefits' and enhancing people policies as the company grows. As Blackhawk's Careers page states, "For us, benefits go way beyond healthcare and PTO. Working at Blackhawk means being valued, supported, cared for, appreciated, and celebrated. Always."
To support physical needs, Blackhawk covers 100% of medical, dental, and vision coverage for employees. According to Windham, caring for people's health and wellness "is the best thing you can do for someone — it's the most basic human need."
A 401K with company matching contributes to a sense of financial security for employees. To ensure a positive working environment, employees receive an annual remote work stipend. Paid time off for volunteering allows employees to give back to their communities. Team events, birthday celebrations, happy hours, and taco parties support employees' social needs. And the list of benefits goes on.
Blackhawk is a longtime Sana client and, through our partners, is able to offer a suite of wellness benefits that most employees can use for $0 — such as virtual primary care via PlushCare, virtual mental healthcare via Ginger, and virtual health and nutrition coaching via Vida. Windham proactively organizes benefits-focused seminars so that his employees know these benefits are available to them and how to use them.
"We've been super happy with Sana's alignment to the current [company] culture… They match who we are and what we want to be about."
Employee development program designed to cultivate leaders
Blackhawk's retention is extremely high. Why? Because of what Windham describes as a "strong development culture" that accelerates career growth faster than anywhere else. 
The first pillar of Blackhawk's culture of development is not hiring employees at the senior level. Instead, Windham hires employees below the senior level with the intention of developing them into leaders in-house. During the hiring process, he makes sure that candidates' values align with those of the company: They must demonstrate ambition, loyalty, leadership, trust, truth, and humility in order to thrive and grow at Blackhawk.
The second pillar is being proactive about asking employees what they need and what their goals are. Windham sits down with his team multiple times a week to ask them what they need in order to accelerate their growth — and he acts on their feedback. According to Windham, employees can achieve a decade's worth of career development in less than half that time at Blackhawk, which makes them want to continue growing at the business.
Given Blackhawk's people-centric ethos, it's no surprise that Windham's favorite thing about small business ownership is the people on his team.
And, when we asked him what advice he would give to other business owners, he said that people are the asset business owners have the most influence over — so it's important to "understand how valuable that is to the company" and to make employee retention the driving force behind business decisions.