Sana Blog
/
4 best health insurance options for small business in 2023
4 best health insurance options for small business in 2023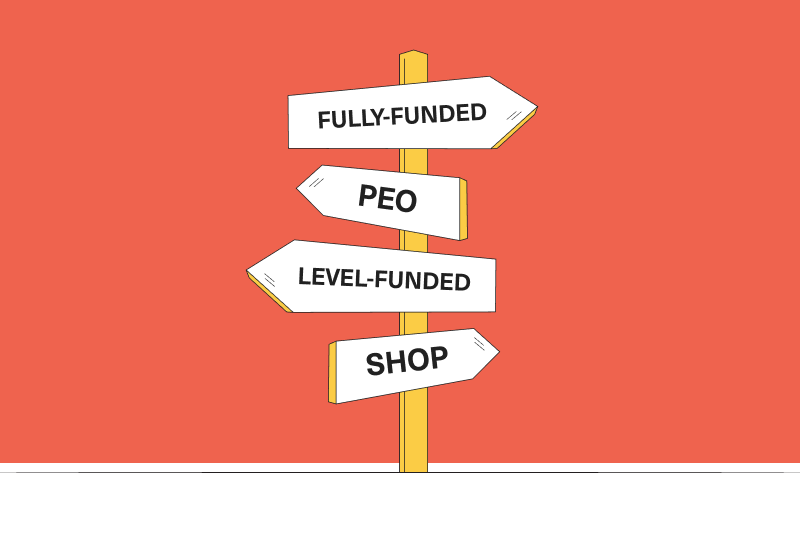 As a small business owner, it can be challenging to cut through the noise and determine which health insurance will actually be best for your business. Not only are there various types of group health plans to consider, but there are also numerous places you can go to shop for each type. All of these options leave many entrepreneurs feeling overwhelmed and unsure where to begin the search for group health coverage.
If you are in the market for small business health insurance in 2023 — whether you're a first-time buyer or a dissatisfied customer looking to switch insurers — keep reading. We dive into the pros and cons of the four most popular options, offering insight into why you'd choose one over the other.
Best for employers who want a turnkey HR solution: PEOs
Professional employer organizations (PEOs) are organizations with which employers can enter into co-employment arrangements. In other words, small businesses can pay PEOs to become the official employer of record for multiple small groups.
This enables small employers to outsource their human resources (HR) functions to the PEO. It also enables the PEO to group multiple small businesses together to secure large-group health insurance rates, which can be lower than those an individual small business would be able to secure on its own.
For their services, PEOs either charge a fixed percentage of a small business' payroll (2% to 12% on average), or a flat fee per employee per month.
PEOs are an appealing option for small business owners who do not have an in-house HR department to handle tedious and time-consuming tasks like payroll, benefits administration, tax filing, and compliance.
Pros of a PEO for a small business
Allows you to outsource HR functions completely
Can give you access to less expensive health insurance than you'd be able to access as an individual small group
Drawbacks of a PEO
Adds additional administrative fees to your total cost, which become less sustainable as your employee count grows
Limits your health plan options to the ones offered by the PEO, which are typically issued by a legacy insurer such as Aetna or United Healthcare
Can result in higher premiums if you get grouped together with companies whose employees are less healthy/higher-risk than yours
Can reduce control over and visibility into how your money is being spent
Top choices for a PEO
Paychex
Justworks
TriNet
ADP TotalSource
Insperity
Best for high-risk employee populations: Fully-funded plans
Fully-funded plans are the most well-known health plan type and account for the majority of legacy carriers' business. In a fully-funded arrangement, the employer pays the insurance company a fixed monthly premium to administer employee health benefits, pay out employees' claims, and assume the risk of any exorbitant healthcare costs that may arise.
Fully-funded plans tend to be more advantageous to large companies — on average, small businesses pay 8% to 18% higher premiums than large ones for the same health insurance policy. This is because large employee populations make it easier for carriers to accurately predict claims and absorb unexpected costs, whereas small groups represent more variance and a greater risk to the insurer.
However, a fully-funded plan may be the best option for a small business whose employees are likely to file many claims due to their age or health status — because fully-funded plans cannot refuse coverage based on past claims or health status. (A PEO would also be an option for a high-risk group, but not all small business owners want to enter into the co-employment arrangement PEOs require.)
Pros of a fully-funded plan for a small business
Eliminates risk
Makes month-to-month budgeting predictable
Provides a health coverage option to high-liability groups
Drawbacks of a fully-funded plan
Tends to be expensive — because carriers wildly inflate premiums to account for possible catastrophic claims, ensure large profits, and subsidize discounts for enterprise clients
Favors large companies over small businesses
Is subject to both state and federal taxes, unlike other plan types
Does not offer plan flexibility or personalization
Makes year-over-year budgeting unpredictable, as carriers tend to raise rates each year without justification
Top choices for a fully-funded plan
Blue Cross Blue Shield (BCBS)
United Healthcare
Cigna
Aetna
Humana
Best overall: Level-funded plans
A level-funded plan is essentially a no-risk self-funded plan.
Self-funding is when an employer takes on the financial risk of their employees' healthcare, setting aside funds to cover medical claims as they come. This pay-as-you-go approach to healthcare works well for Fortune 500 companies with mammoth employee populations because it lowers or eliminates their administrative costs — and such corporations have plenty of financial runway to cover exorbitant medical claims if they arise.
Level-funding is self-funding with monthly cash flow stabilization. This means that employers pay a fixed monthly amount into a claims fund, which covers medical claims as they come. However, there is a cap on what you could owe in a given plan year, which means that if your claims exceed that level, you are not on the hook for the excess. On the flip side, if your claims come back lower than what you paid, you get a refund or credit from the insurance company at the end of the plan year.
When you choose a level-funded plan, your insurer will administer employee health benefits and pay out employees' claims just as they would on a fully-funded plan.
While the so-called BUCAHs (BCBS, UnitedHealthcare, Cigna, Aetna, and Humana) have level-funded offerings alongside their traditional plans, they often lack the tech infrastructure and customizability that modern insurance companies offer. Their inefficient systems can bloat administrative costs — and their loyalty to the bottom line of the parent insurer (whose business was built on fully-funded plans) may result in inflationary pricing practices and inflexible provider networks.
There are a handful of newer insurance companies — like Sana — that specialize in level-funded plans for small businesses and are dedicated to making healthcare more affordable and customizable for small groups. This is the best health insurance option for most small businesses.
Pros of a level-funded plan for a small business
Eliminates risk
Makes month-to-month budgeting predictable
Tends to be more affordable — because your personalized monthly payment represents the anticipated medical claims of your actual group plus an administrative fee for plan management
Is taxed less than fully-funded plans, as it is only subject to federal taxes
Offers the possibility of a refund or credit at the end of the year if your claims cost less than you paid
Offers you more control over health plan design and customization
Frees you from arbitrary premium hikes each year
Drawbacks of a level-funded plan
May be higher priced or medically decline your group if it is very unhealthy/high-risk
Top choices for a level-funded plan
Best for tax incentives: SHOP plans
SHOP is the online health insurance marketplace for small businesses. Created under the Affordable Care Act in 2010, it was designed to make it easier for small businesses with fewer than 50 employees to find and purchase group health insurance.
However, insurer participation in the program has declined since its creation — SHOP plans are no longer available in every state, and it is no longer possible to browse and enroll in SHOP plans directly on the platform. Instead, you have to work with a SHOP-registered insurance agent or broker, or contact insurance companies directly to ask whether they offer SHOP plans.
However, if you can access a SHOP plan in your state and have fewer than 25 full-time equivalent employees (FTEs), there is a major incentive to do so: the small business healthcare tax credit.
The maximum credit is 50% of the premiums your small business pays, or 35% if your business is tax-exempt. Eligible businesses can receive the tax credit for two consecutive tax years.
If you meet the following requirements, you can qualify:
Offer a SHOP plan to your employees
Have fewer than 25 FTEs
Pay average wages of less than $53,000 per year per FTE (indexed annually for inflation)
Pay at least 50% of the cost of employee-only coverage
Pros of a SHOP plan for a small business
Offers the possibility of a significant tax credit for two years
Drawbacks of a SHOP plan
Not widely available in all states
May not leave you with the best/most affordable plan option once you are no longer receiving the tax credit
Frequently asked questions about small business health insurance
In 2022, the average annual premiums for small business health insurance are $8,012 for single coverage and $22,186 for family coverage. Employers and employees typically share these costs.
Yes — money employers spend on health insurance for employees and their dependents is considered a business expense under state and federal tax law and can be written off.
When a small business reaches 50 or more full-time equivalent employees (FTEs), it is required under the Affordable Care Act to offer health insurance that is both affordable and meets a minimum standard of value.
Self-funded insurance with level-funding is an excellent option for small businesses because it places a cap on what employers could owe in a given year — which offers most of the savings of self-funding without any of the risk of claims coming back higher than you budgeted for.