Sana Blog
/
How much should employees pay for health insurance?
How much should employees pay for health insurance?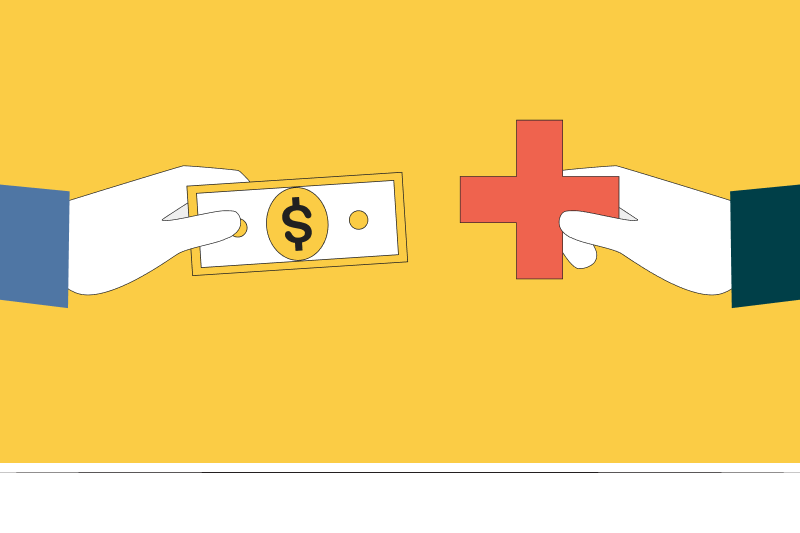 Last updated on May 10, 2023
From the insurance plan your company chooses to your employees' health conditions, many factors affect how much employees pay for health insurance. Let's go over the factors involved and get a baseline of costs.
Health insurance payments & costs: The stats
Here's what these payments look like on average in America. This data is from the 2022 National Compensation Survey (NCS) by the U.S. Bureau of Labor Statistics (BLS):
The average cost for healthcare per employee-hour worked was $3.44 for private industry workers.
The average family coverage premium cost $1,710 per month, and 80% of private industry workers had medical care plans that required them to contribute to that premium. On average, employers paid $1,251 per month, while employees paid $459.
75% of workers participating in single coverage medical plans with contribution requirements had a flat-dollar premium, and the median amount was $103.
Average employee contributions for health insurance
Kaiser Family Foundation (KFF, the leading nonprofit organization for health policy research) reported in their 2022 Employer Health Benefits Survey:
Most covered workers contribute to the cost of their health insurance premiums, with the average contribution being 19% of the premium for single coverage and 29% of the premium for family coverage.
The average premium at small firms is $7,706 for single coverage and $21,692 for family coverage.
The average annual general deductible for covered workers with a deductible is $1,644 for single coverage and $3,531 for family coverage.
Breakdown of average employee & employer contributions
| | | | | |
| --- | --- | --- | --- | --- |
| Plan Type | Single Coverage | | Family Coverage | |
| | Avg. Worker Contribution | Avg. Employer Contribution | Avg. Worker Contribution | Avg. Employer Contribution |
| HMO | $1,186 | $6,769 | $6,262 | $16,628 |
| PPO | $1,459 | $6,812 | $6,383 | $17,043 |
| POS | $1,378 | $6,432 | $6,764 | $13,926 |
| HDHP/SO | $1,136 | $6,152 | $5,363 | $15,773 |
| All Plans | $1,327 | $6,584 | $6,106 | $16,357 |
Note: The table is based on the 2022 Employer Health Benefits Survey by the Kaiser Family Foundation. The dollar amounts shown are rounded to the nearest dollar.
Why does health insurance cost vary so much?
Health insurance costs can be a significant expense for individuals and businesses alike, and understanding the factors that drive these costs is crucial. In this section, we'll explore some of the key reasons why health insurance can be so expensive, and what you can do to manage these costs.
Factors that impact health insurance costs
Location: Every state has its local rules and regulations, living costs, and medical offerings.
Employee personal variables: The employee will pay different amounts if they choose a plan to cover themselves individually or to include a spouse or a larger family group. Age and lifestyle also has an impact on the premium owed.

Younger people will usually pay lower premiums than older individuals because they typically have fewer health conditions and see doctors less frequently, resulting in fewer claims.
Obese employees, for instance, can expect to pay a higher premium, as they are more prone to illness and make more claims than a healthier person.
Similarly, tobacco use can significantly increase how much an employee ends up paying for health insurance.

Plan type: The plan type can refer to the overarching plan chosen (whether it is fully-funded, level-funded, or self-funded), as well as the many options for the employee to choose from within a plan type that will affect the deductible amount, the out-of-pocket maximum cost, and the coinsurance percentage after the deductible.

Level-funded plans tend to be more favorable for small and mid-sized businesses with lower than average expected medical claims. As the company funds the plan directly, lower expected claims mean lower premiums.
How to reduce health insurance costs
Small employers have several options to obtain health insurance for their employees, but some can be more expensive than others.
First, there are these 3 cost-saving tips to reduce your spend on health insurance.
Here are 3 additional tips on how to reduce health insurance costs:
Shop around for competitive rates: Take the time to research and compare different insurance providers to find plans that offer comprehensive coverage at competitive rates, ensuring that you get the best value for your money.
Offer a high-deductible health plan (HDHP): HDHPs generally reduce the employer's cost in providing health plans, but can also make healthcare spend less wasteful. Since employees are responsible for most of the costs before a high deductible, they may forego unnecessary tests or exorbitantly priced providers.
Utilize telehealth services: Telehealth offers remote access to healthcare professionals through virtual consultations, which can be a cost-effective alternative to in-person visits. Consider partnering with telehealth & virtual care providers to offer this convenient option to your employees.
In the end, your potential and current workforce will make their own cost-benefit-based decisions when presented with a health insurance plan. Like you, they want to save as much money as possible, but they also want to be confident that their health and wellness are in good hands.
Here are some criteria they will more than likely evaluate:
Medical network
Dental and vision
Mental health
Physical wellness
Telehealth
Maternity care
Why offering health benefits is a competitive advantage
An attractive health benefits package is a magnet for top staff at any company and will also help you retain committed employees. Although health care is considered one of the most expensive benefits, it is undoubtedly an investment into your company's future.
Sana offers level-funded health plans to small businesses that include valuable perks while also saving you hassles, money, and hidden fees. Learn more about how we make healthcare affordable, accessible, and understandable.
Health insurance cost FAQs
Yes, in most cases, employees can opt-out of health insurance coverage offered by their employers. The process for opting out may vary depending on the employer and the specific health insurance plan. Employees who are considering opting out of employer-provided health insurance should carefully consider their options and the potential consequences.
Rising health insurance costs can squeeze employees' take-home pay as they are required to pay more for their health insurance premiums and deductibles. Employers should communicate changes in health insurance costs to their employees in a timely and transparent manner.
The legal requirements for employers to offer health insurance to employees depend on a few factors, including the size of the company and the provisions of the Affordable Care Act (ACA). State and local laws may also impose requirements on employers. Employers should consult with legal and benefits experts to ensure that they are in compliance with all applicable laws and regulations related to health insurance coverage for employees.