Sana Blog
/
The basics of health insurance for nonprofits
The basics of health insurance for nonprofits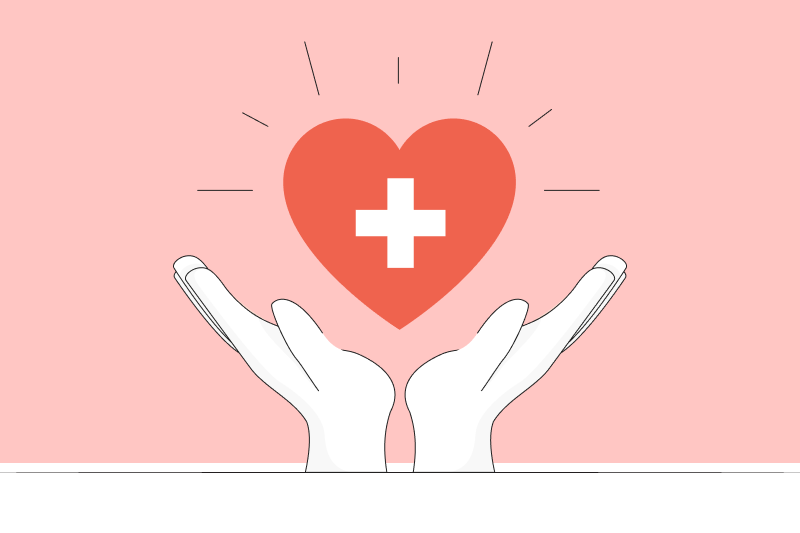 Last updated on August 4, 2023
Nonprofit organizations with 50 full-time employees or fewer aren't required to provide health insurance, but many nonprofits recognize that investing in employee benefits is an investment in their organization's success.
Nonprofits tend to struggle with employee retention due to the difficult work, high burnout rates, and limited funds to compensate employees adequately. While nonprofits can't always compete with the private sector's financial incentives, offering high-quality health insurance is one way to reduce turnover and encourage employees to stay.
Below we will discuss why health insurance is beneficial to small nonprofit organizations, some of the nonprofit-specific challenges that come with offering insurance to employees, and some of the plan types that nonprofit organizations can choose from.
Why offer health insurance for nonprofits?
Providing employees with health insurance is a great way to invest in your organization's future. A huge part of the success of a nonprofit hinges on its ability to assemble and retain a team of talented employees. For any business, quality health insurance is one of the key factors in helping recruit and retain top talent. But because small nonprofits operate with different budgets than other businesses, traditional insurance plans aren't always viable options. Luckily, there are several types of affordable, high quality health insurance plans that nonprofits can choose. We'll review some of those plan types below.
The benefits of offering health insurance to your employees
Given that 29% of employees consider insurance to be as significant a factor in job selection as their salary, it's understandable why more small nonprofits are seeing the value in offering health insurance as part of their employee package. Offering health insurance is a win-win and directly benefits employees and the organization. Some of those benefits include:
Attracting top talent: By offering health benefits, nonprofits can be more competitive in attracting and hiring the best talent to help their organization achieve its goals.
Boosting employee satisfaction and productivity: While most nonprofit employees are passionate about their work, safety concerns can impact job satisfaction and productivity. Comprehensive health coverage relieves these worries and allows employees to focus on organizational goals.
Improving employee retention: Employee turnover is costly, particularly for small organizations. Health benefits not only attract top talent but also play a vital role in retaining employees, resulting in cost savings.
Tax incentives or exemptions available for small nonprofit organizations
There are also tax benefits for organizations that offer health insurance for nonprofit employees:
Tax credits: Nonprofit organizations with fewer than 25 employees, paying average annual wages below $56,000, qualify for a tax credit worth up to 35% under the ACA's Small Business Health Care Tax Credit.
Tax exemptions: Under Section 501(c)(29) of the revenue code, Qualified Nonprofit Health Insurance Issuers (QNHIIs) that have received a loan or grant under the Centers for Medicare and Medicaid Services (CMS) CO-OP program receive a tax exemption.
Challenges to offering health insurance for nonprofit organizations
Even after understanding all of the benefits of offering health insurance to your employees, making the decision to do so comes with challenges. Specifically for small nonprofits, challenges can include:
Operating with a limited budget: Nonprofits typically work with tight budgets and may not have enough money allocated toward employee benefits.
Navigating complex regulations: Understanding and complying with health insurance regulations can be complicated and time-consuming, especially for small nonprofits without dedicated HR personnel.
Variability in employee needs: Nonprofits often have diverse teams, from volunteers and part-timers to full-time staff. These teams have different health insurance needs, and finding a one-size-fits-all solution is difficult.
These challenges make doing thorough research and selecting the right plans even more important for nonprofits than other sectors.
Exploring nonprofit health insurance options
Group health insurance is a term that covers several insurance options. Any plan offered as a package for two or more people is considered group health insurance, though there are several ways group plans can be structured.
Traditionally, group health insurance involved employers partnering with a large insurance carrier to provide health coverage to employees and their families. Most group plans were either fully or partially funded, and health insurance was considered unaffordable for small organizations.
However, modern insurance plans, including self- and level-funded plan structures, have changed that, making health insurance a possibility for small organizations previously restricted by their budgets.
Let's look at some affordable health insurance options available to nonprofit organizations.
Self-funded health insurance plans
A self-funded plan is a health insurance plan in which the employer assumes the financial risk for providing healthcare benefits to its employees. Employers take responsibility for paying for employee medical claims as they are presented, using money contributed by employees and the company that is set aside expressly for this purpose.
A level-funded insurance plan is a type of self-funded plan where employers partner with an insurer like Sana. Employers pay a fixed monthly rate that includes a small insurance premium to cover excess claims, making budgeting healthcare costs easier. These types of plans combine the predictability of fully funded plans and the affordability of self-funded options.
Learn more about self-funding and level-funded insurance plan structures to see how they work in a small business or nonprofit context.
Health reimbursement arrangements (HRAs)
Health reimbursement arrangements, or HRAs, are a good option for nonprofits who are just getting started and don't have a health insurance budget. Unlike traditional health insurance, with an HRA, the employer pays a portion of their employees' healthcare costs directly, offering a distinct advantage of flexibility in determining the contribution. Health reimbursement arrangements are also an excellent option to let employees know you are committed to helping offset their medical expenses.
Find out more about how you can use HRAs to offer group health insurance to your employees.
Health savings accounts (HSAs)
A health savings account (HSA) is a specialized savings account for medical costs. The money employees put into an HSA is not taxed and can be used to pay for certain healthcare expenses, excluding insurance premiums.
Learn more about health savings accounts to see if they're a good fit for your organization.
Small Business Health Options Program (SHOP)
The Small Business Health Options Program (SHOP) is a health insurance marketplace for small businesses. Established in 2010 under the Affordable Care Act (ACA), SHOP aims to help small businesses (those with fewer than 50 full-time-equivalent employees) provide their employees with quality, affordable healthcare options.
Check out our complete guide to SHOP options and see if your nonprofit qualifies.
Which insurance option is the best for my nonprofit?
Finding the best options for health insurance for nonprofits involves some basic steps:
Audit your needs
Every nonprofit is different, so find out what your employees want and what your organization needs. After an audit, some organizations discover that it makes sense to go for a fully-funded option, while others realize self- or level-funded plans better align with their needs and budget restrictions.
Do your research
Once you know what you're looking for, it's time to look at options. There are dozens of insurance plans available, so take your time and do your research. We recommend looking for insurance options online. Unlike traditional providers, many online insurers provide quick, accurate quotes to nonprofits. They'll even walk you through open enrollment and offer ongoing customer service support via phone, email, or live chat.
Remember, offering health insurance isn't just a significant policy and financial decision; it also directly correlates to your employees' health, satisfaction, and well-being, so be sure to take the time to see what's out there.
Decide with confidence
By working with third-party administrators such as Sana, you can offer employees affordable, high-quality health insurance at a fraction of traditional costs.
At Sana, we offer customizable, flexible plans, ensuring that all of your employees have access to affordable healthcare. With our plans, you get fair pricing and long-term savings, richer plans with quality $0 Care Partners, reliable support, and easy benefits administration. Contact us to get a quote and see if Sana Benefits is right for you.
Nonprofit health insurance FAQs
The Affordable Care Act (ACA) applies similarly to small businesses and nonprofit organizations, with a tiny exception: Whereas for-profit small businesses with fewer than 25 employees can get back a 50% tax credit, nonprofits are entitled to up to 35%.
Any organization with 50 or more full-time employees is required to provide health insurance to at least 95% of its staff. For nonprofits with 50 employees or fewer, the ACA doesn't stipulate any legal requirement to provide health insurance.
Nonprofits that can't afford traditional group health insurance can explore alternatives, such as level-funded insurance and HRAs, that are considerably cheaper and more flexible while still providing quality coverage.